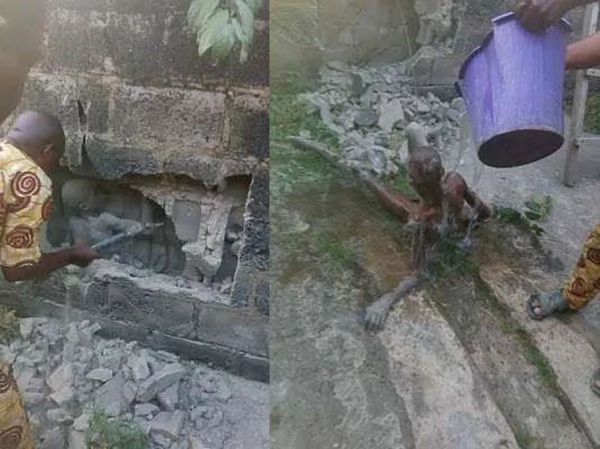 People from Ondo State in Nigeria reported that they have been hearing strange sounds from a cement wall thinking that it is a paranormal thing.
The residents decided to broke down the wall to prove that there is nothing in there, but they were shocked when they found a malnourished boy buried inside the wall.
The rescuers freed the boy by tearing down the wall. The boy, who is just skin and bones, crawled out of the hole. Once freed, the rescuers poured water on him.
The photos of the dramatic rescue circulated online. Facebook user Peter Agba Kalu wrote,
"Mysterious Things That Happens In Africa. A 12 years old boy found in the middle of a molded block in Ondo State. Am too shocked for words. I don't know how to explain the possibility of this because it's beyond science. Only someone with deep understanding of the spiritual realm will analyse this. Someone help us explain this please".
It is still a mystery how the boy ended up inside the wall.
Do you have other interesting, or heartwarming stories, photos, or videos? Please share it with us by liking our official Facebook page and sending us a message.
Watch the latest KAMI video below and subscribe to KAMI Youtube channel.
Source: Kami.com.ph