"Game Changers" gather at 2017 Asian Humanism Conference
KAMI understands that humanism in itself has its stories, or could have, if we were patient enough for the before and after. As we take a look at how humanism is perceived now, KAMI, as a media partner for the event, took the time to visit the 2017 Asian Humanism Conference and listen to different humanist themes told in different voices.
MANILA, PHILIPPINES - Representatives and leaders of various humanist organizations locally and abroad gathered at Bayleaf hotel in the historic city of Intramuros last June 10 to 11 for a two-day conference hosted by the Humanist Alliance Philippines, International (HAPI), in partnership with the International Humanist and Ethical Youth Organization (IHEYO) and featuring several other secular humanist organizations. The Asian Humanism Conference (AHC) is an annual meeting of humanist youth in Asia. Its twofold goals are to help build connections between people and humanist organizations in the region, and to offer training on skills and capacity building to help make groups more effective in the work as humanists. Past conferences have been held in Nepal, Singapore, and Taiwan.
Trailblazing Secular Humanism in the Philippines
This year's theme, as explained by conference director Danielle Hill, represents the "game changing" element that humanism plays in the socio-political landscape of the world. It plays on the fifth fundamental definition of humanism: a movement borne as a response to the widespread demand for an alternative ethos to dogmatic religion. As a worldview, humanism is a game-changer. It recognizes that reliable knowledge of the world and ourselves arises through a continuing process of observation, evaluation and revision.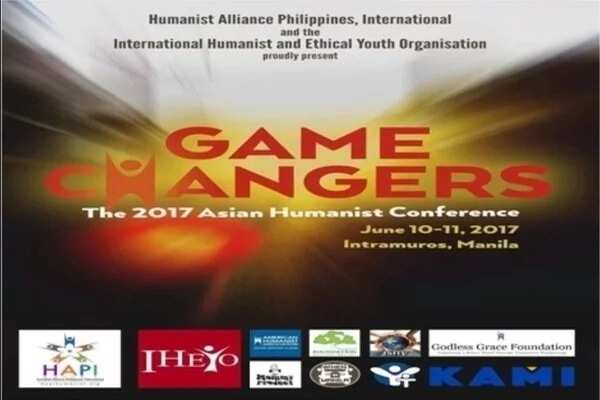 "Game Changers" was also a nod to the speakers: trailblazers of the international humanist movement, advocacy workers with different sets of expertise, who were called to inspire, imbue their knowledge upon, and help build the capacities of a new generation of game changers – the conference participants. It sought to empower, encourage, and give delegates the tools to put their humanist worldview into practice.
A Long History of Humanism
The first of many speakers present on the first day, Professor Xiao Chua of the De La Salle University (DLSU), talked about the cultural history and development of the Philippines in terms of spiritual and mythological beliefs from before the arrival of the Spanish. He brought knowledge linking pre-Spanish Philippines to modern beliefs as well as the voice of the Katipunan and Ilustrados of the country during and leading to the revolution for independence.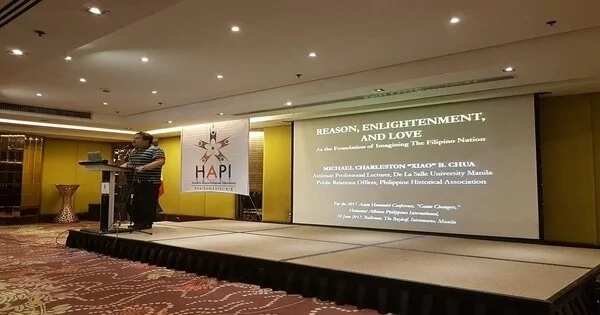 Contemporary Philippines: Humanism as a Political Stance
"If humanism had a political party, what would its slogan be?" - Jesus Nicardo Falcis III, Esq.
Mr. Red Tani, founder of Filipino Freethinkers (FF), urged for vigilance in light of the local political climate where human rights advocates abuse victims are being demonized and dehumanized amidst government propaganda. He proposed to provide evidence that presented comparisons with how the Duterte administration has been employing the same psychological tactics to control the population as the Catholic Church and that nothing about this was original, challenging himself to change the mind of those present with evidence.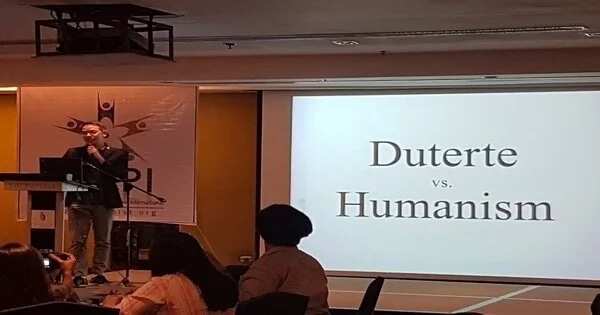 Demonization and dehumanization of marginalized members of society
Disrespect for women
Cherry-picking whose human rights should be respected
The hate for narcotics (Contraceptives for the Catholic church and narcotics for the administration)
Unrealistic and ultimately futile grandiose promises
Mr. Tani ended his presentation by asking the crowd whether the proposition that Duterte is against Humanism was true, to which an overwhelming majority of the crowd agreed.
Atty. Jesus Falcis III, on the other hand, warned against an emerging Philippine dystopia if Filipinos fail to protect the hard earned freedoms protected by the constitution. Accordingly, he entreated everyone to critically analyze what it means to lose our freedoms and the democracy that we take for granted. According to him, the fundamental enemy of democracy and humanism is poverty. He called on humanists to organize politically and to avoid the trap of the curse of knowledge in spreading the humanist advocacy by reaching out to others empathetically.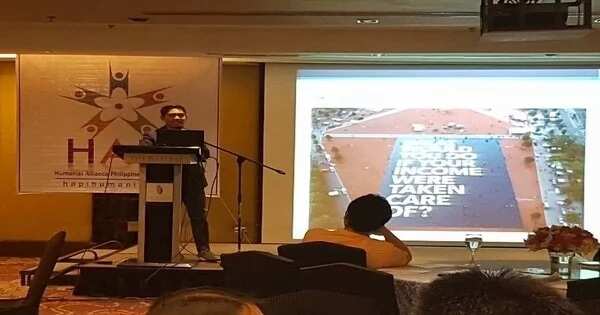 Atty. Falcis argued that a Humanist political party will have a clear target market ranging from the LGBT, Feminists, social progressive and marginalized groups in society; all it takes will be active campaigning to gain more and more constituents and thus, political leverage.
Getting the word out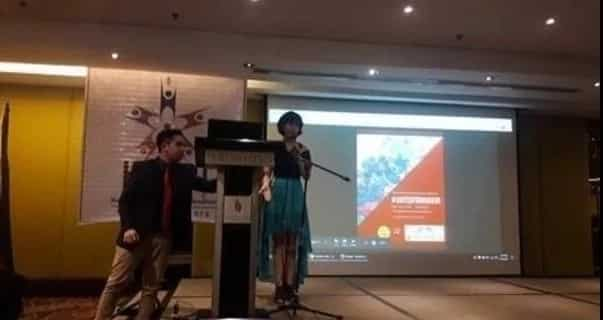 Several speakers during the event discussed effective and working methods for the spread of the advocacy through social and humanitarian aid projects designed to present to the public the active application of the humanist cause and idea. Projects dealing with Environmental Humanism, a support for the Feminist and the LGBT cause, humanitarian aid programs like the #UnitedForMarawi campaign, as well as the use of Art and Comedy to communicate grievances, among many others.
I. Environmental Humanism
"When you plant the right trees, you greatly express love. It won't serve you now, but the people who are not even born yet. This is the greatest, most selfless legacy you can ever give, not only to our fellow humans but to the whole planet.
We need more trees in the future, for everyone to survive Climate Change." - Jennifer Gutierrez, HAPI Executive Director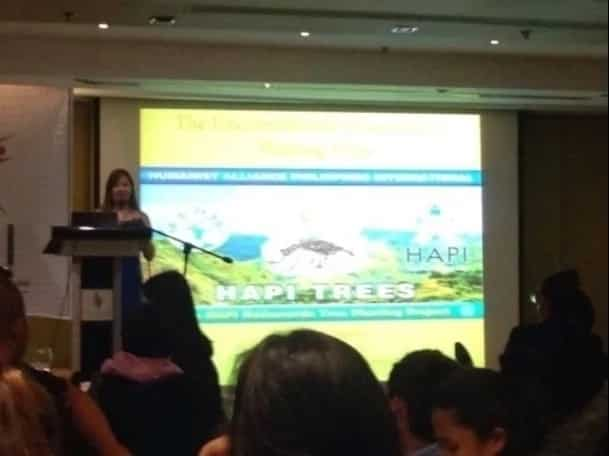 HAPI Trees, Gutierrez's pet project, is an annual, nationwide, tree planting activity spearheaded by HAPI chapters all over the Philippines together with the help of local volunteers and environmental advocates. The project has grown in size since its very first year and is continuing to a 3rd. Gutierrez argues that despite all the issues surrounding humanity, everyone will most likely stand and support environmental efforts, and is thus the easiest way to entice people into humanist societies.
II. Weaponizing Art and Comedy
"Art knows no boundaries. Regardless of someone's religious or political stand, art appreciation will always overpower most everything." – J. Erik Villa, HAPI Bacolod
For several speakers, on the other hand, art is the medium that allows them to spread the ideals of humanism as well as to criticize without being seen as overly offensive.
Carlos Celdran, a performance artist and cultural activist, spoke about how art can change the status quo through imagery and symbolism. He also touched on the history of Manila and discussed images of the architecture and customs of Filipinos based on the native, Spanish and American influences by giving the audience a glimpse of the history and changes that the city has undergone through the ages.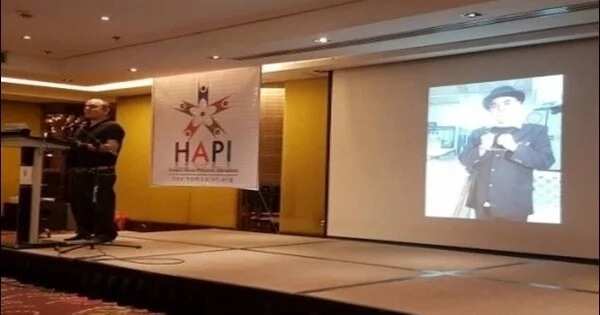 Hailing from a highly religious and sensitive country where death threats against vocal individuals is the norm, stand-up comedian Reggy Hasibuan of Indonesia, on the other hand, graced the AHC to talk about comedy as a platform to overcome social, cultural, and religious sensitivities.
According to him, there are rules to comedy when it comes to highly sensitive areas and as long as there are people laughing, one can breathe a sigh of relief and be safe.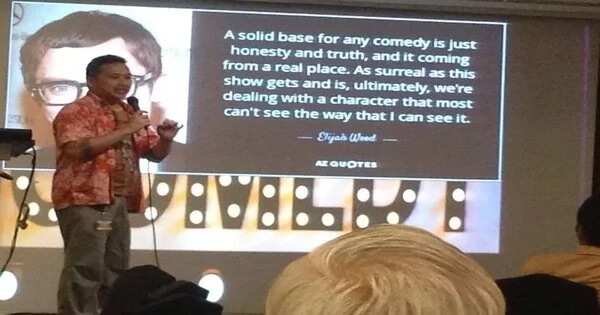 Local chapter convener J. Erik Villa, meanwhile, presented the Rekindle project and reported on the success of the program. The Rekindle project is a HAPI - Bacolod Chapter initiative to keep the group exposed in-between advocacy activities. It was meant to develop a recurring event that can hold art presentations and performances together with awareness talks open to all organizations and groups in line with HAPI's advocacies and views. It is also a venue for HAPI Bacolod members to meet.
He also introduced 'Project Firestarter', an up-and-coming Rekindle project where artists can apply for crowd or fund sourcing for their craft through a site. Artists being showcased may put samplers, of their work, so people will know what they will be supporting. The project seeks to create a support network for humanistic artists and art enthusiasts throughout the country, and perhaps abroad as well.
Learning from our Neighbours
Humanism is becoming a force for change and is a globally growing phenomenon. One of the biggest take-aways of the conference, according to many delegates, is the sharing of experience and information on how to best bring about the humanist change that the various organizations wish to gift the world.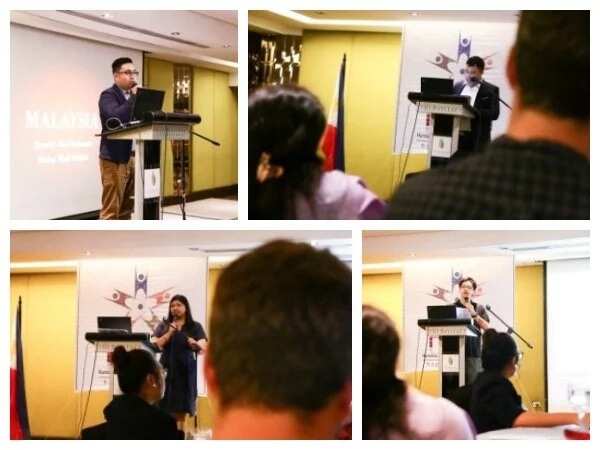 Wade Kaardal, IHEYO Asian Working Group Chair, expounds upon this idea: "The Asian Humanist Conference is the event where pan-Asian Humanism is explored and strengthened. This year in Manila was no exception. In the context of the Philippines, it was remarkable to see that in thought and practice, Humanism is strong. Globally, attendees also witnessed how a broad number of local philosophical and historical contexts all converged on Humanism as a solution to present political and humanitarian issues.
By bringing [global humanists] together, the Asian Humanist Conference, is and will continue to be the place where the Asian humanist movement sets its agenda and makes its voice heard."
EDITOR'S NOTE: Report by Christopher Michael Barredo. All photos courtesy of Humanist Alliance Philippines, International (HAPI).
For more information on humanism, visit http://iheu.org/humanism/the-amsterdam-declaration/.
To know more about HAPI and its advocacies, visit https://www.facebook.com/HAPIkami/.
Source: KAMI.com.gh