Woman stops car thief from driving away with her vehicle. She jumped on the hood unwilling to let go of her car...
What would you do if you happen to step out from your car for a moment, and the next thing you know, someone deliberately gets in and tries to drive away?
While most people would instantly feel dumbfounded and stand frozen for seconds, this lady from Milwaukee, Wisconsin, did the unthinkable, and it has earned her praises from netizens across social media.
Melissa Smith was at a gas station when out of nowhere, a Cadillac strategically pulled-up in front of her, and out came a man who sneakily crouched and slid over her car's driver side. This all happened in a matter of seconds, as Melissa was busily filling her tank.
The unsuspecting car owner, upon realizing a stranger was about to drive away with her SUV, immediately acted on impulse.
She threw herself over the car's hood, blocking the windshield, while holding on for dear life as the carnapper tried to speed away.
Scroll down to see the video.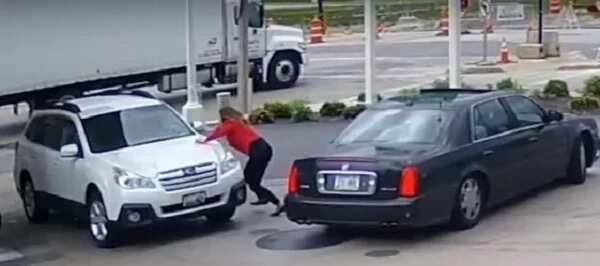 Melissa shared how the devious car thief even had the audacity to laugh at her for jumping onto the car, which really irritated Melissa all the more.
As the thief slammed on the brakes a couple of times in an attempt to throw her off, Melissa didn't budge, and she held on even tighter.

Melissa did everything to stop him from getting far, fighting off the man in her desperate attempt to retrieve the car she's worked hard for.
And Melissa seemed to be successful at it!

The thief eventually gave up, jumped out of Melissa's car into the accomplice Cadillac that was waiting for him, and took off -- but he somehow still managed to snag Melissa's phone and purse, which were both inside her car.
Melissa admitted,
"It wasn't the smartest and the safest thing, but I just worked with my instinct."
"The the price tag of my car flashed through my head."
KAMI wants to remind all the readers that bravery plays a big part in our day to day experiences. When faced with a similar scenario, it is important to stay calm, think quick, and act immediately, but we must also remember that our life is far more valuable than any material possession out there.
Watch what happened in the CCTV footage below.
SHARE this story to all your friends and family and help spread awareness!
WATCH this latest KAMI video now! And if you want to watch more exciting and interesting videos, please subscribe to KAMI YouTube channel.
Source: KAMI.com.gh