KAMI came across with this heartbreaking story in "The dailypedia" where Marie Vargas shared a photo of a kid who was eating alone at a fast food chain.
For Marie, it was really heartbreaking since the kid was all alone having his breakfast when in fact he should be with his family.
"As I just finished dropping my son off at school and walk into burger King to get some breakfast I see this… this sweet beautiful little boy. Eating breakfast, ALONE, BY HIMSELF, before he heads off to school. It couldn't help but break my heart, I asked him if he was by himself and he said he was just here alone waiting for school to start and finish his pancakes. I asked him if I could sit with him, and keep him company he said yes. So that's what I did. I just sat there with him enjoying his company and we talked a bit while he ate his pancakes. As a parent I know we get busy, we may forget, work or relationships or maybe just life overwhelms us to the point where you don't realize what's going on."
READ ALSO: Watch This Video! A Kid Placed In A Backpack While Traveling On A Highway
"We're so busy trying to do everything for our kids that we forget that we should be doing things WITH them not just for them. At the end of the day our kids don't care about what kind of Jordans we buy them, name brand clothes, or fancy outfits. They care about us, spending time with us, having fun with us."
She reminded all the parent that "NOTHING YOU EVER BUY CAN AMOUNT TO THE MEMORIES AND BOND YOU MAKE SPENDING TIME WITH YOUR CHILDREN!!!"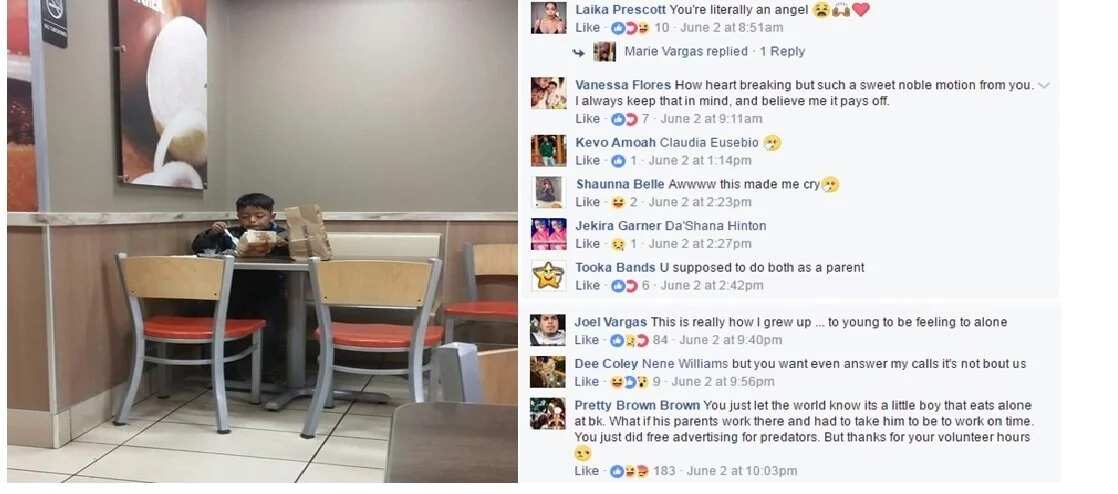 READ ALSO: Man Surprised to See A Dinosaur Came Out From A Bushy Area

READ ALSO: Look At Richard and Lucy's Stunning Daughter, Juliana!
Source: Kami.com.ph