An IT Student Seeks Help Online For His Little Nephew, John Jayden. Find Out More About it
-Uncle is only a student who appeals to everyone who has a good heart to help his nephew fight leukemia.
-Edwin felt the immense pain seeing his nephew suffering from a terrible illness and his sister experiencing all these heart-wrenching episodes.
-He doesn't have any funds to share with his sister, so he finds a way to help his nephew, and as an IT student, the best way he knows how is through the internet.
-Read Little John Jayden Parrucho story here.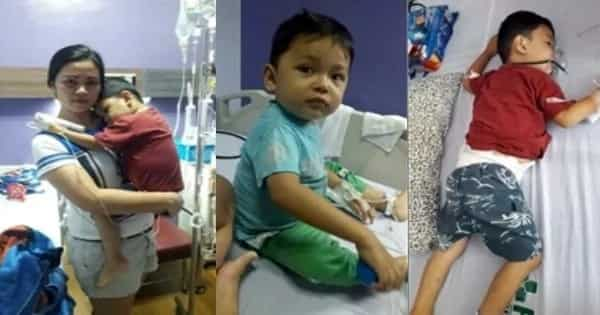 Read more: "Daddy, how much do you make an hour?" A Simple Question That Brought Tears To Netizens.
Each one of us is either an aunt or an uncle, or probably both. We know how painful it is to witness your niece or nephew getting sick. When we see them feeling pain from illnesses, we want to take away their pain. We would even want to have their pain to free them from the suffering.
This kind of pain is what exactly Edwin felt seeing his nephew diagnosed with leukemia and his sister, little John Jayden's mother battle this tragic fate.
Edwin is just a student who is not earning. Thus, he doesn't have sufficient finances to help with the medical bills, and nothing hurts more than not being able to do anything.
However, due to his determination to help, Edwin found a way to help his little nephew. He came across with You Caring website that is a free funding platform that enables individuals to start and raise a fund for people in need.
Read more: "I Thought I had Everything." A Millionaire Surgeon Had Great Lessons Learned And Thoughts About Life, Happiness, And The True Meaning Of Success.
On April 12, 2017, 3-year old John Jayden Parrucho was diagnosed with acute leukemia. He is currently confined at the Philippine General Hospital as stated on Edwin's fundraising campaign. The little boy needs utmost medical attention to treat his leukemia.
He has an ongoing chemotherapy session that will go for 2 and a half years, which quite cost a lot. Aside from this, medical and hospital expenses are also adding up to the list.
Thus, Edwin Patriarca is seeking help to generous hearts for the full treatment of his 3-year old nephew.
Source: KAMI.com.gh