KAMI was left teary-eyed by this confession of a daughter about her father cheating for a long time.
She told that she knew about this since she was a kid. Then one day, she bravely confessed to her mother about her father's unfaithfulness. But she was shocked when her mother said that she already knew about this and said, "Hayaan mo sya, tinitibayan ko naman yung loob ko para sa inyo hindi para sa kanya".
"Kailangan ko lang po ng mapaglalabasan ng loob kaya ako nag-confe dito. So here it goes...
Bata palang ako alam ko na lahat. Lahat ng pinag-gagagawa at pagtataksil ni papa kay mama. Mahirap para sa batang katulad ko na nakikita ko ang mama kong nasasaktan at nahihirapan sa lahat ng ginagawa ni papa, pati ako din nahihirapan, pasan pasan namin ang problemang yon araw-araw.
Babae, pera, utang, etc­­.
Isang araw, buong tapang kong hinarap si mama para sabihin lahat ng nalalaman ko sa panloloko sa kanya ni papa. Pero laking gulat ko na alam din pala yon ni mama di nya lang sinasabi. Masakit, masakit kasi kahit alam nyang ginagag* sya ni papa di nya magawang iwan si papa.
Sabi sakin ni mama "Hayaan mo sya, tinitibayan ko naman yung loob ko para sa inyo hindi para sa kanya" galing kay mama yang mga salitang yan, alam kong nasasaktan na sya pero nginingiti nya lang yon,ayaw nya ng problema.
Tinanong ko si mama "Ma, mahal mo pa ba si papa kahit ganyan sya?"
Mama: "Bayaan mo sya, ang importante kayo, siraulo yang papa nyo eh, manloloko pa"
A: *umiiyak*
Umiiyak ako lagi dahil don, maraming problema. Pasalamat nalang ako na umiiyak ako laging nakapatay yung ilaw, di ako nakikita ni mama, kase alam kong iiyak din sya. Ayokong nakikitang umiiyak at nasasaktan si mama, pati rin ako nasasaktan. Ma wag ka po mag-alala nandito naman ako at hindi ka iiwan. Hindi ko hahayaan na mapahamak ka at aalagaan kita mahal na mahal po kita Ma."
Read also: Heartbreaking! This 8-Year-Old Wrote A Letter To The Mistress Of Her Father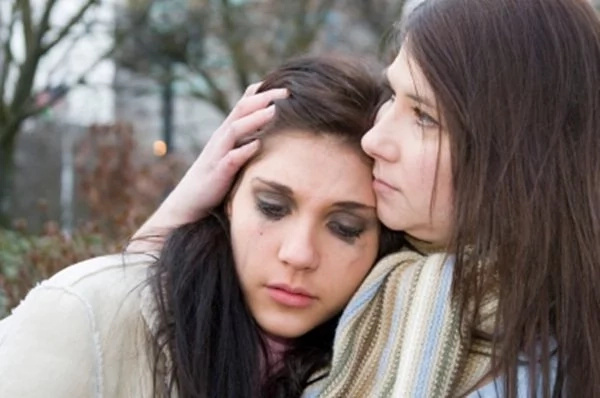 Read also: Heartbreaking: Father ached to see his daughter crying in pain.
Disclaimer: Michelle Ortiguero
If you like this story, please share this with your friends.

Source: Kami.com.ph