Boy becomes his girlfriend's 'first man'. All of a sudden he says, "Can we be just friends?"
- Miss J fell for a Mr. V who was only after what every man wants from a woman.
- Eventually, he got what he wanted and ended their relationship.
- Miss J realizing her worth decided to end up their relationship for good.
KAMI learned about this story of a typical girl who loved a guy and gave everything to him. This post was seen from UCnian Freedom Board, a Facebook confession page.
Everybody meet the heroine of this story whose name we hide by Miss J.
Summer time is one of the best times of the year where a girl can find love. Miss J met Mr. V and thought that he was ugly but when she saw him, she got caught up in his charm. They started texting and getting dinners together.
When they went on a joyride, they had their first kiss. She said he was so sweet and got "kilig" when he asked, "by? Will you be my girlfriend?" Guess what! She said yes!
After that, they went out numerous times and something happened to them. "Sinuko ni Miss J ang bataan." Mr. V got what he wanted and told her that they should just stay friends. She was shocked, mortified even!
Later on, he broke up with her officially for he was going back to the city. A place away from her. Two days passed and he went back to the province. They met and she noticed he was so busy texting. He said, "Nag txt2 baya mi balik sakong X." He was texting with his ex-girlfriend and said that maybe he would get back with her which he did.
Realization dawned on Miss J as a friend advised her of how important she is and how she shouldn't be treated like a slave. She cornered him and broke off for good.
Now, she is happy with her single life. She advises "tanga" girls like her to wake up and see your worth. "You're a princess not a slave!"
She learned her lesson and realized not to be deceived by sweet words because in the end, the deception would make her cry.
Want to read her original post? See below.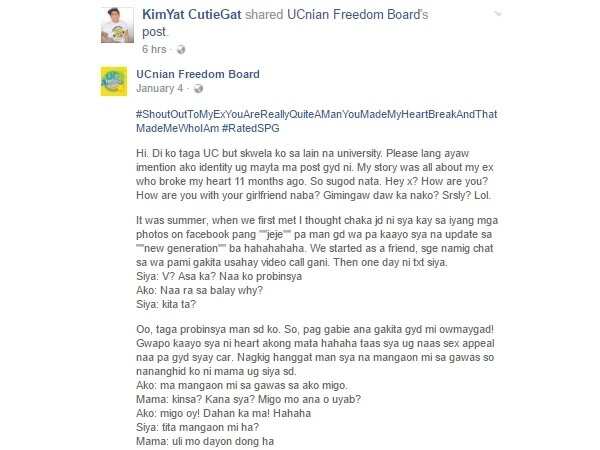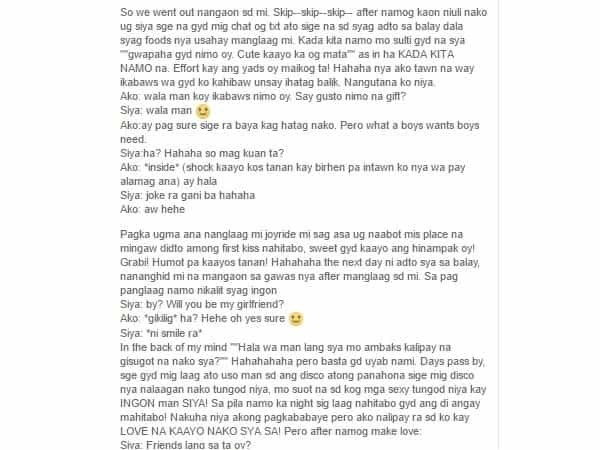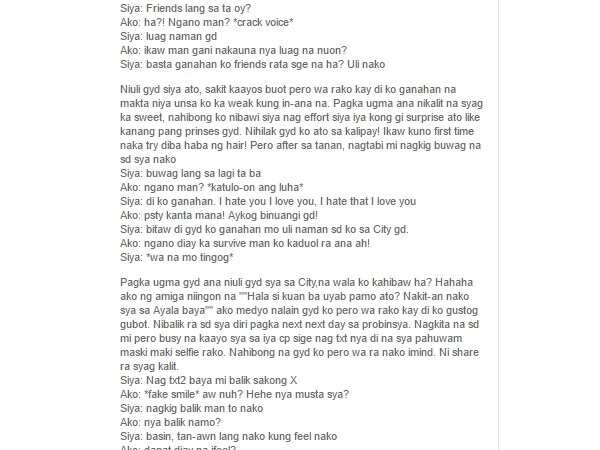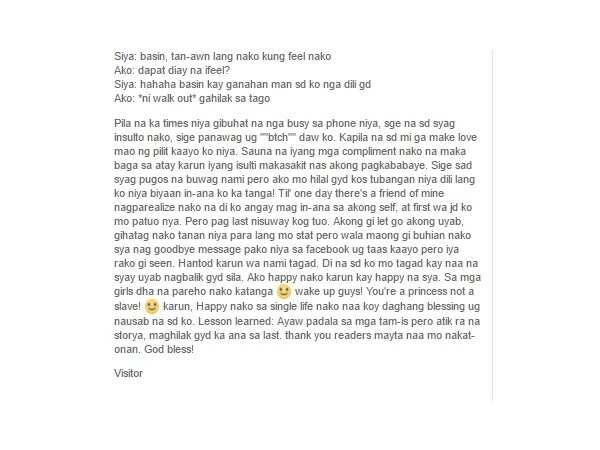 Do you know any stories like this? Don't hesitate to SHARE them on KAMI!

Want to hear what netizens have to say about their Filipino Parents? Interesting right?
Source: KAMI.com.gh