KAMI was amazed when we heard the story of Ariel who suffered from Kidney failure. Doctors said that the only cure for this is through dialysis or kidney transplant only.
Ariel's family didn't agreed on either the two options. So Ariel's sister searched the internet on any other options like herbal meds. Then they saw and tried Intra Herbal Juice. Then after 3 weeks, Ariel's creantinine turn low.
"Unang take niya ng Intra, my nararamdaman daw siya na parang tinutusok ang sikmura niya. Thanks God tumalab agad. He is taking intra 3 jiggers 3xa day which is 9 jiggers a day or more.after 1 month I advised them na mgpacreatinine pra mlaman nmin kng 22o ba ggaling kptid ko at kng sakaling hndi ppaltan nmin ng ibang herbal or we will decide for a dialysis just to atleast prolonged his life,dhil sa excitement ng father ko kc npklaki ng pinagbago ng brother ko he decided to do the test even he is just taking Intra just for 3weeks... And God is really good bumaba agad ang creatinine niya in just 3 weeks.It's really amazing tlga at ngaun d n xa hinihingal at mukha tlgang wla xang skit,ibang iba nrin xa ngaun unlike before n plq xang nkakulong sa kwarto at dun lng umiikot buhay nia,dti ayw nia lumalabas pro ngaun madalas xa p ngyayaya kc niinip dw x sa bhay which is strange kc hndi xa gnun dati"
Read also: Pinay mother shares miraculous recovery of premature baby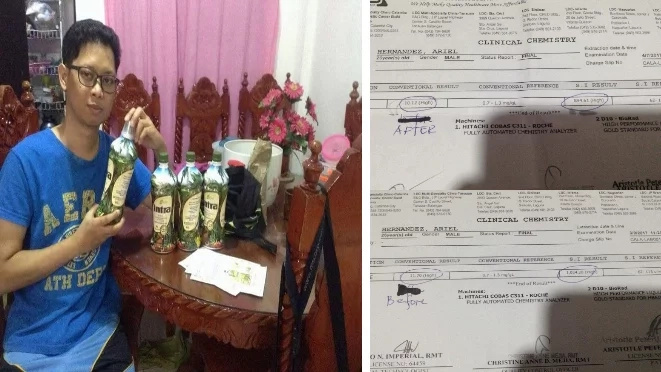 Read also: Patient Renso's health improved and recovery still underway
Disclaimer: Michelle Ortiguero
If you like this story, please share this with your friends.

Source: Kami.com.ph