LOOK: Duterte's alleged BPI account, real?
A picture of a deposit slip bearing the name of bank account holder Rodrigo Roa Duterte has been circulating in social media, alleging that the Davao City Mayor indeed has a Bank of the Philippine Islands (BPI) bank account as exposed by Senator Antonio Trillanes IV.
In a Facebook post making its rounds of social media, it was claimed that an unnamed friend of the one who posted made a five hundred peso deposit to a certain BPI bank account, whose number was said to have been first reported in the Philippine Daily Inquirer.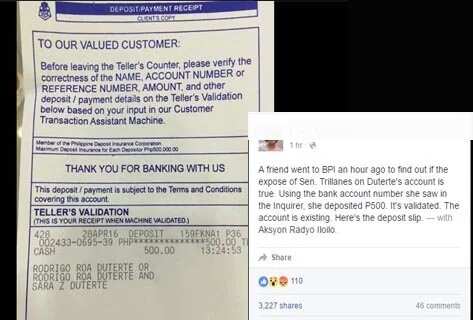 The authenticity of the claim still has to be verified, but the post already had 3,227 shares as of this writing.
Trillanes made an expose showing that Duterte had a Bank of the Philippine Islands (BPI) account which contains P227 million as of 2014 and was not declared in the mayor's Statement of Assets, Liabilities, and Net worth (SALN).
"I received the information through my various networks. Mayor Duterte who brags that he is not corrupt and is a simple and poor man should be asked to explain about his secret bank accounts that contained at least P200 million," the senator said.
Duterte reportedly had a net worth of P21,971,732.62—assets worth P22,971,732.62 and a liability of P1 million in his 2014 SALN.
The tough-talking mayor denied the existence of a BPI account holding more than P200 million and called Trillanes a liar.
"I told you, he is a liar. He fabricated this," said Duterte at the Makati Business Club – Management Association of the Philippines (MBC-MAP) forum.
"Believe me. That's garbage. You can check with the bank. You go there," Duterte dared.
In a report by the Philippine Daily Inquirer on Thursday afternoon (April 28), Duterte confirmed that he has a BPI account on Julia Vargas Avenue in Pasig City.
Duterte said that he only has about P50,000 and P17,000 in his two accounts, and not what Trillanes is claiming.
He challenged the senator to execute an affidavit explaining how and where he obtained his data.
Source: Kami.com.ph