Filipino couple shared their inspiring story on how God helped their relationship to grow and to make it better
- Filipina shares her story with his boyfriend
- She tells her lengthy story of how different they both were in the past
- They struggled but God helped them both
This photo is not a Puberty challenge. Treszka Tio Oliveria shared this side-by-side two-year comparison to show something else.
On the left, they were drunk as can be seen with their flushing red faces. On the right, they're in a praise and worship event with their fellow youth.
Treszka shared her story on how God changed their lives for the better.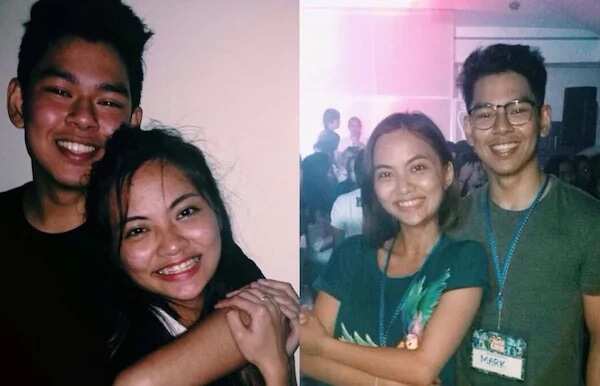 READ ALSO: Netizen shares encounter with Uber Driver who tried to set him up with a date
READ ALSO: Netizens troll a Lazada product for its expensive price
She shared this truth:
"YOU CANNOT MAKE ANYONE CHANGE.
I didn't understand this when my mom repeatedly reminded this to me when I was 16. I had a boyfriend who would always tell me "I have changed for you. I am a bad boy but you make me want to be good" loool
But back then, I felt like a superhero. It caused me lots of heartbreaks to learn that my mom was right.
Change comes from love, from REAL LOVE. The love that was demonstrated to us by God. The love that forgives, encourages and the love that is selfless. Not the love we think we get from relationships. When I fell in love with the Lord, that's what inspired me to be a better person.
And to be honest, I was ready to let go of Mark. I saw the reality that there came a point where we were so close in dragging each other down, and if we didn't stop, we could have destroyed each other. We were happy, we were never toxic to each other, but our relationship was not God-centered. And I knew any relationship that wasn't built out of God's love can last FOR LOTS OF YEARS BUT WILL BECOME SO POISONING. We could date for 10 years but those can be 10 miserable years. Our situation was in a unique case that time, because I was pregnant. So I asked him to just continue giving me space to learn and pray for this.
Little did I notice that as I walked with the Lord, Mark was closely watching. And I guess that's what gave him the inspiration. My walk in getting to know God was different from Mark's. We knew we had to grow individually before we could grow our relationship.
I didn't change him. You can't make anyone change. If a boy tells you that you changed him... Run.
This "change" is fake. It's the type of change that disappears when you fight. It's the type of "show" he puts up when you are around.
Change has to come from within. A person should desire change for his own good first. You can never pressure a person into changing, otherwise, he will just put on a mask for you, so that you'd stop whining about how he should be and who he should be.
Also, why are we always so focused on what others need to improve on? WORK ON YOURSELF. There are only two things you are in control of: yourself and your response to others. This is what I did. I let myself learn and grow."
READ ALSO: Filipino awkward kid grows up to become a pogi man
His boyfriend changed for himself and by himself by deciding to reduce drinking and quitting bad habits.
Lastly, she advises that "You cannot change someone just for him to fit your preferences. You cannot force someone to perfectly fit your puzzle."
Focus on yourself. The rest, if it's God's will, will follow.
Guys, Mark and I are sinners. We are not too different from others. The difference probably is that we choose to surrender EVERYDAY. We both need to keep on growing. Learning and growing should NEVER STOP. We share this story with you to inspire you that change is never too late and to show you the wonders God can do if you let Him guide you. Do not expect perfection, but expect things to be better than today.
And we admit, without God, there probably will be no "us" today."
READ ALSO: Andres Muhlach all grown-up to follow dad's footsteps
Source: KAMI.com.gh