For two long years, a beggar has been saving all his money to buy a special gift for his daughter. His daughter's reaction is priceless!
- MD. Kawsar Hossain's life was full of misery and poverty.
- He was forced to beg because he had lost his right arm when the coach he was riding in, fell off a bridge.
- On a day-to-day basis, he gets fed by his daughter and he roams the streets to beg for a piece of food or some change for his family.
KAMI learned this beautiful story shared on Facebook by GMB Akash about a father who saved every penny he begged for to buy a dress for his daughter.
This father is no ordinary man. His right arm was amputated leaving him handicapped. He was forced to beg for money on the streets. His determination in saving every single cent he gained made netizens applaud. It just shows how much he loves his daughter and how much he is willing to sacrifice for her needs.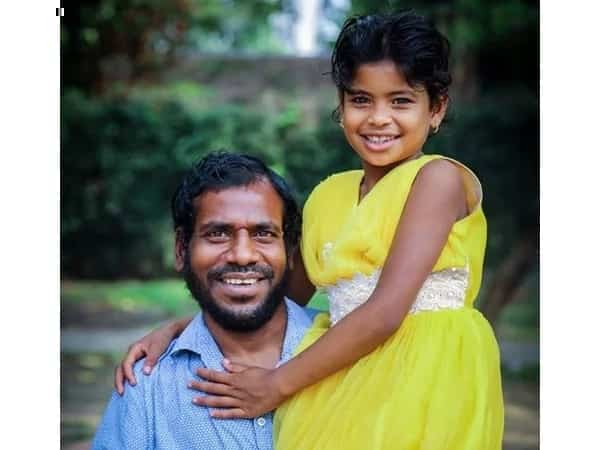 Sumaiyya, Hossain's daughter, smiled with all her heart as her father took a picture of her. Hossain borrowed his neighbor's phone so that he could capture his daughter's happiness all over her beautiful face. He brought her a bright yellow dress which took him two long years to save. All of his hardships and sacrifices were all worth it for he saw how radiant as the bright dress her daughter's smile is.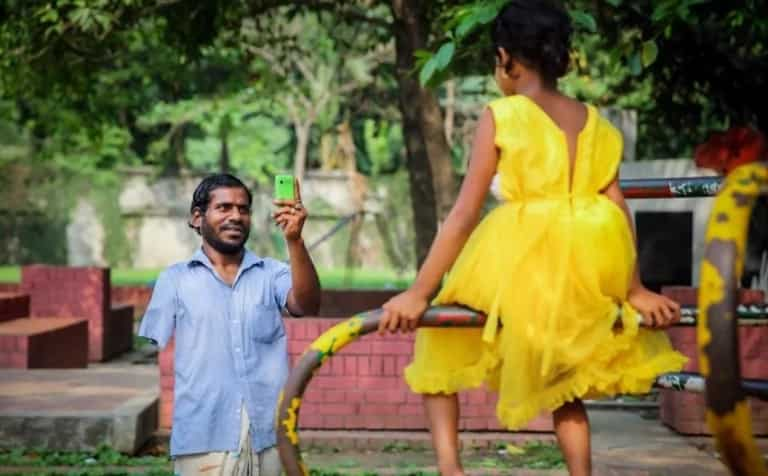 This picture of Hossain and daughter in a park gained attention and popularity from a lot of netizens. A record of 45000 reactions and 11000 shares for this picture posted by GMB Akash, photographer, on Facebook.
Beggars are looked down by a lot of people and one of them is the shopkeeper who sold them the girl's dress. As the father and daughter entered the shop, the shopkeeper insulted him by asking if he was a beggar. Sumaiyya had second thoughts buying the dress for she saw the look on her father's face. The look of hurt and rejection. She doesn't want him to be humiliated at her expense so she cried and beg her father to leave the shop.
This little incident did not hinder him from getting the award for his sacrifices. He brought the vibrant, yellow dress and made his daughter wear it. He took a day off from begging so that he can spend his victory with his daughter. They toured the city and found a nice spot at a park.
Sumaiyya sat and showed her father a very beautiful smile. Father captures her smile and so does GMB Akash captures his.
If you would like to read from GMB Akash's post, here it is.
Yesterday, I was able to buy a new dress for my daughter after two years. While I handed sixty pieces of five taka note to the seller, he yelled at me by asking if I am a beggar. My daughter held my hand and cried to leave the shop by saying that she did not want to buy any dress. I wept off her tears with one hand. Yes, I am a beggar. Ten years ago I had never thought in my nightmares that I have to live by begging from people. The night coach fell from the bridge and unbelievably I was alive. I was alive by becoming a disable. My youngest son often ask me where had I left my other hand. And my daughter Sumaiya feed me every day by saying she knows how difficult it is to do all work with one hand.
After two years my daughter is wearing a new dress, that's why today I brought her with me to play for some time. May be I will not be able to earn anything today, but I wanted to roam around with my little girl. I secretly borrowed this mobile phone from my neighbor without informing my wife. My daughter has no picture and I want to make this day memorable for her. When one day I will have a phone I will take a lot of pictures of my children. I want to keep good memories. It's very difficult to send my children to school, but I am educating them all. Sometimes they cannot attend exam because giving exam fees is not always possible by me. On those days they feel very sad then I tell them, sometimes we can miss exams because the biggest exam is life which we are giving every day.
Now I will go for begging. I will place my daughter in a signal where she will wait for me. I will look at her from distant while begging. I feel shame while she looks at me when I lend my one hand to others. But she never leaves me alone. Because there are big cars, she thinks accident can happen again, these cars could run on me and I would die. Whenever I managed to get some money I return to home by holding my daughter's hand. We do bazaar on our way and my daughter always carry that bag. During rain we love to get wet and talk about our dreams. In someday I do not get any money, on those days we return to home silently. On those days I feel like to die but at night when my children fall in sleep by holding me I feel being alive is not a bad thing. Only bad is when my daughter waits for me in the signal by keeping her head down. When I cannot look at her eye while begging. But today is different. Because today my daughter is very happy. Today this father is not a beggar. Today this father is a king and here is his princess.
- MD. Kawsar Hossain
SHARE this heartbreaking story with your fellow netizens!


You might also want to check out this special KAMI video!
Source: Kami.com.ph