Sen. Trillanes has been spotted by a netizen boarding a plane via Korean Air.
The picture was taken while Sen. Trillanes is asleep by an unidentified co-passenger.
Netizen questions the uncanny timing of the sudden flight, a day after Lasacañas flew for Singapore.
SPO2 Arthur Lascañas leave the country and flew for Singapore after an intensive senate hearing for his alleged participation on a rumored Davao Death Squad probing Pres. Duterte's involvement.
A day after that, photos of Sen. Trillanes went viral boarding a plane taken by a netizen. Speculation has been circulating in the social media about the sudden flight, conspiring the strange timing of the two.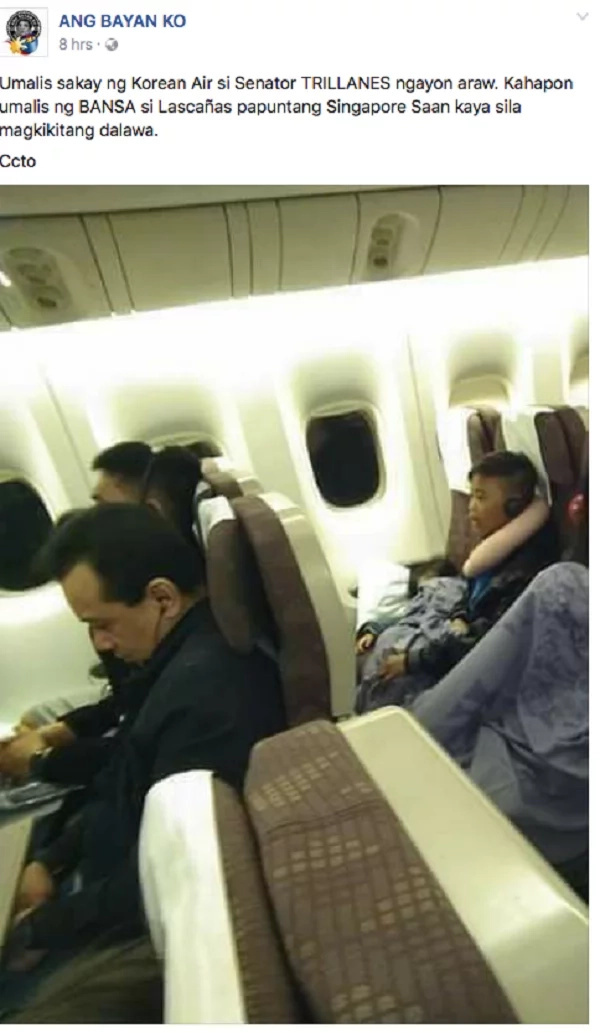 The netizen who took this picture is still unidentified. Sen. Trillanes side is still not giving any comments in this viral post.
Kami obtained this photo from Pinoy Trending News.
Some of the followers of Sen. Trillanes refuted the allegation that the senator is living abroad for a holy week vacation.
Netizens give us your thoughts about this and don't forget to share.
Source: Kami.com.ph