Just because of simple "friend request", this thing happened! Mga babae nga naman
Kaye Esman sent a friend request to a guy on facebook name Lester Nalla II.
And because of that "friend request" Lester Nalla girlfriend got mad!
Read their coversation below
Eto po iyon ung chat nya saakin. Inadd ko daw iyong bf nya
well actually inadd ko naman talaga. But it doesn't mean na may balak ako landiin or what.
I don't really know kung anong klaseng pag iisip meron tong babaeng to.
Nakapa paranoid. And besides ang tagal tagal tagal na nun.
Hindi ko na nga matandaan kung kailan ko pa inadd iyon.
Hahaha and fyi. Friends kami sa fb matagal na tapos ngayon nya lang sasabihin sakin na may balak daw ako sa bf nya????
Hahaha noon pa sana girl kung meron. Tapos ung fr na sinasabi nya year ago na yata. Tapos eto pa ang malupet.
Bakit ko naman lalandiin iyong boyfriend nya. In the first place di naman kagwapuhan at hindi ko TYPE. HAHAHA HINDI KO TYPE OR WHAT SO EVER. OKAY? AND *****. PAKIALAM KO SA INYONG DALAWA. HAHAHA SO AYUN DI NA AKO NAKAPG REBAT SA KANYA JASI BLINOCK NYA NA KO. HAHAHAHA TIME. TAPOS ANG YABANG MAY PA ENGLISH ENGLISH PANG NALALAMAN EH KINGINA DI NYA NGA ALAM UNG GMRC EENGLISHIN PA KO. HYPE KA. WALA KA NAMAN PROOF NA NILANDI KO OR WHAT IYONG BOYFRIEND MO.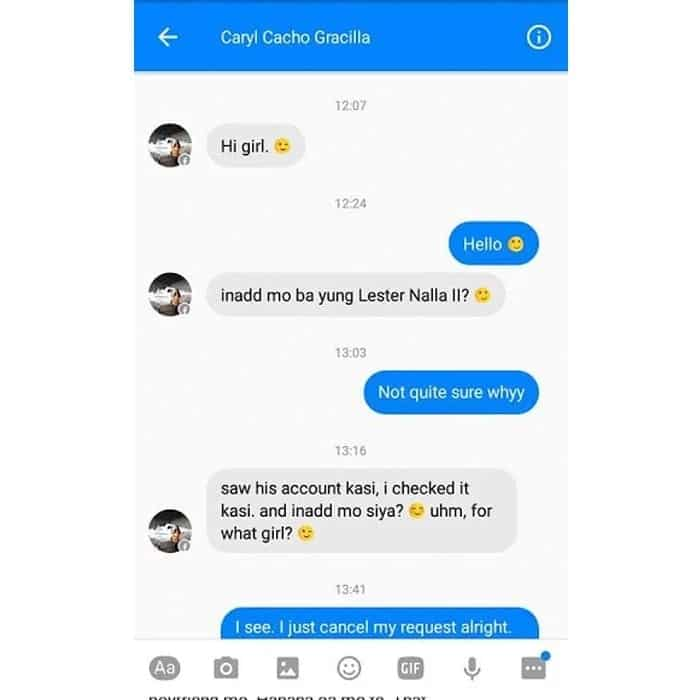 READ ALSO: Inspiring Lola Adda and her daughter Inday need our help. Watch their video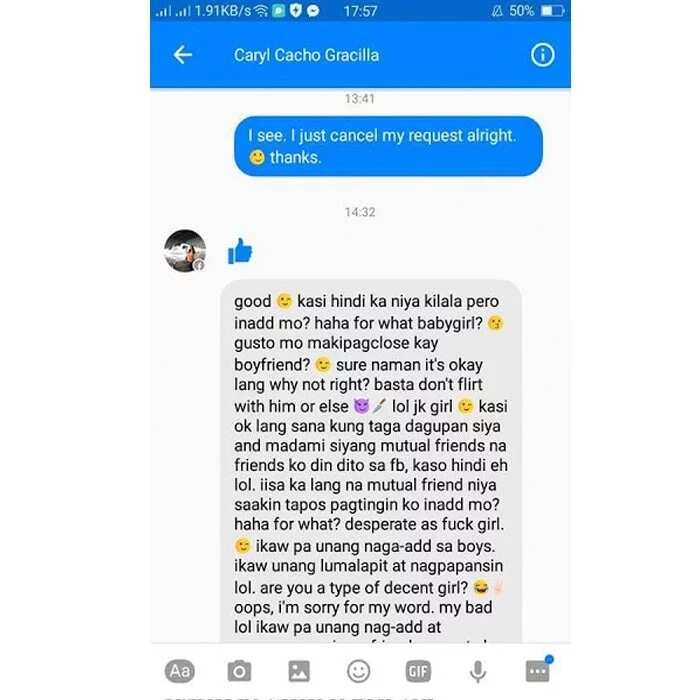 Grabe naman si girl kung makaselos haha well at this point naghahanap na siya ng away.. Kayo din ba ganyan kapag nagselos??
WATCH ALSO: Netizens share a video of huge anaconda fighting with the alligator. Amazing yet pretty scary! Who won the battle?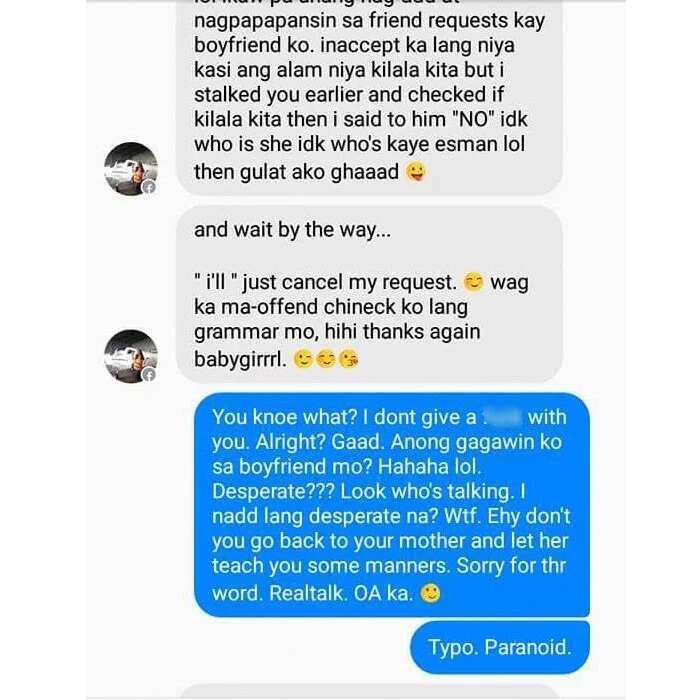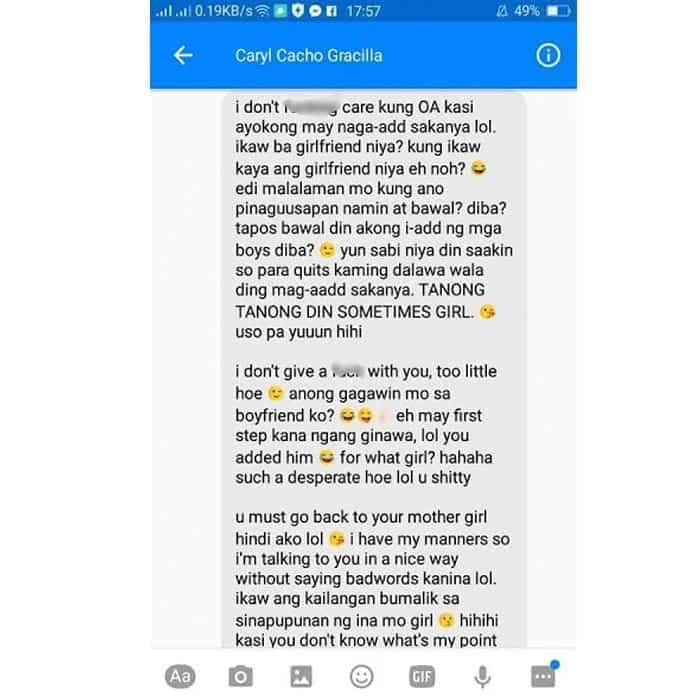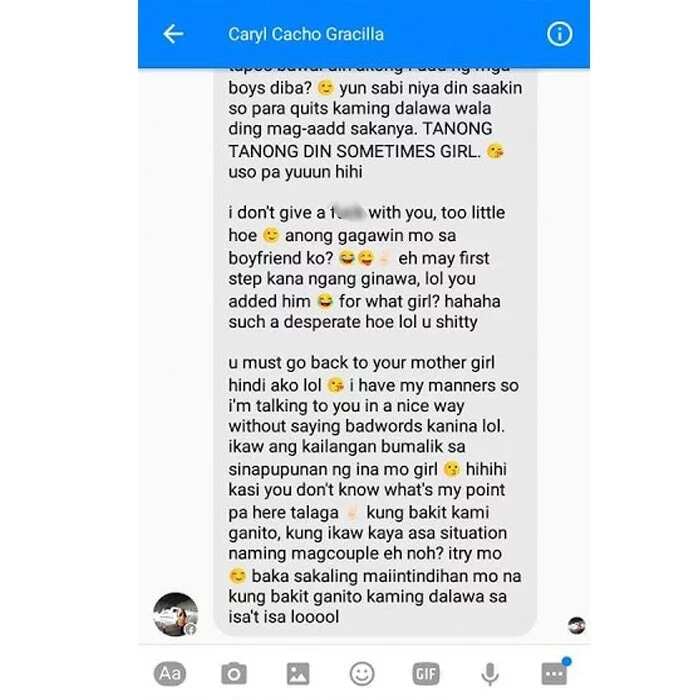 WATCH ALSO: Netizens around the World were SURPRISED when Marcelito Pomoy sings the prayer. You wouldn't believe what their reaction was!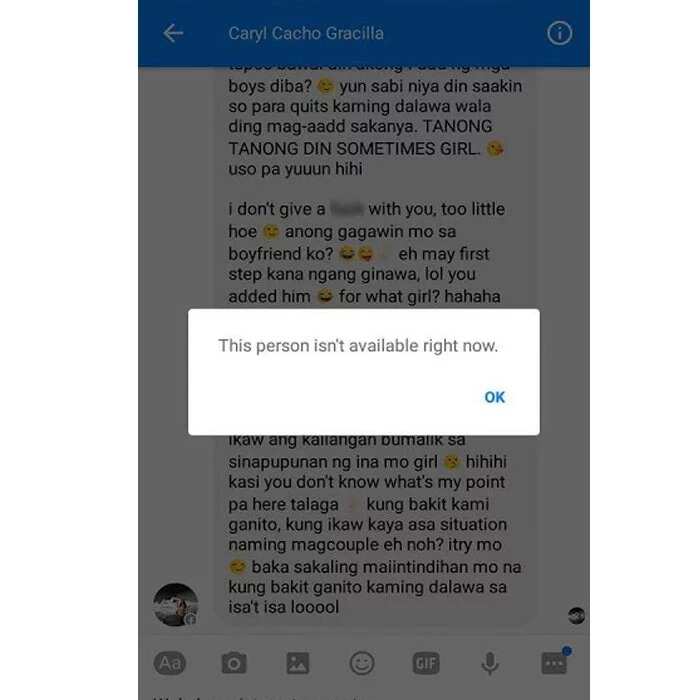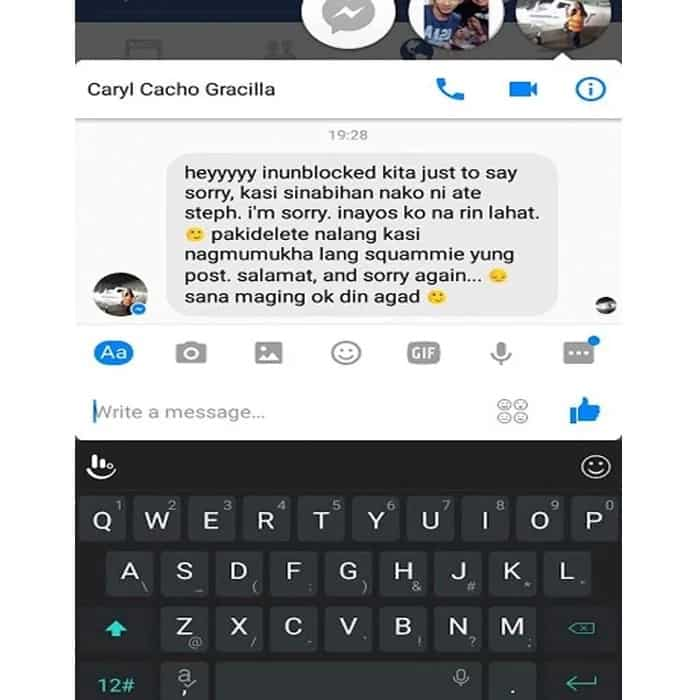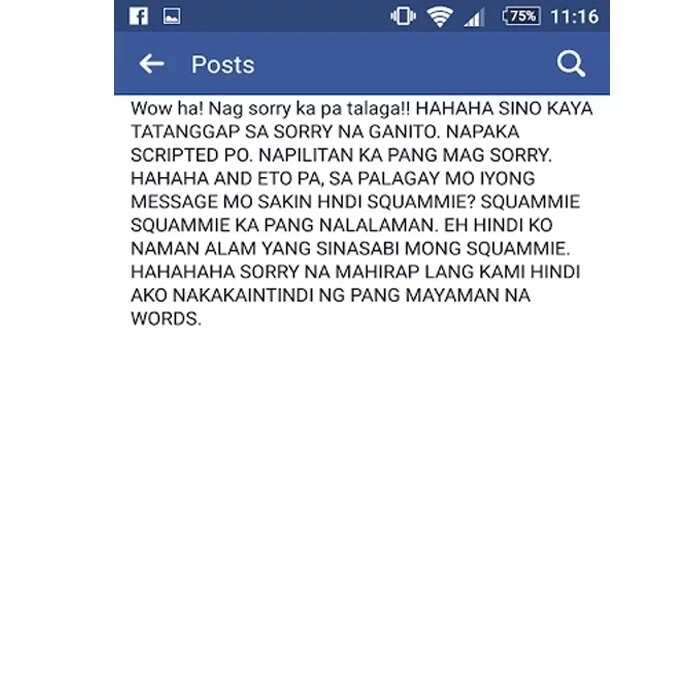 WATCH ALSO: Sobrang nakakatawa :D Watch Senator Manny Paquiao vs baby Baste on Jackpot en Poy

Please share the storry
Source: KAMI.com.gh