Actor Archie Alemania, a Davao City Mayor Rodrigo Duterte supporter, issues an apology via Twitter after being bashed for posting on social media a "selfie" of him and presidential candidate former DILG Secretary Mar Roxas.
The Instagram selfie, which was posted on Sunday, April 24, was accompanied with a witty caption that states Roxas is a "die-hard" supporter of presidential candidate Duterte. He further stated in the caption that Roxas made a "good choice" in choosing Duterte. In the hashtags, however, Alemania hinted that he was just being playful.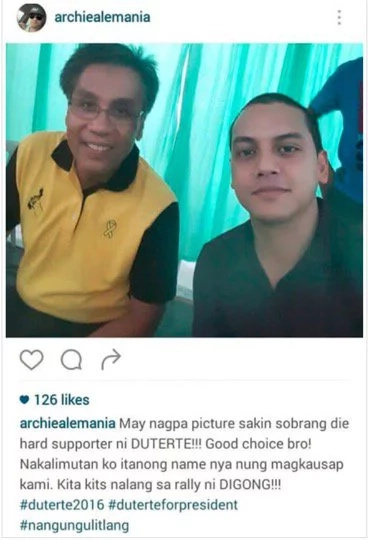 Unfortunately, a lot of netizens did not somehow like the caption, with others saying that Alemania is disrespectful and insensitive.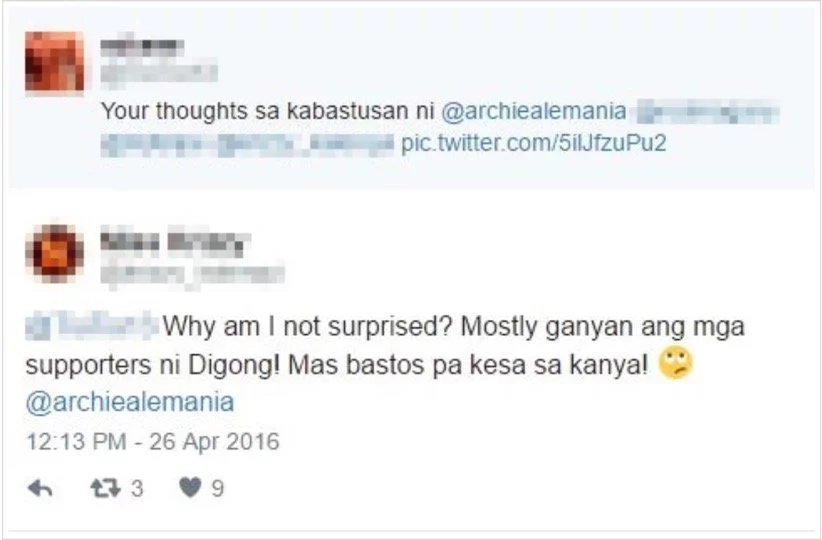 Following the bashful and hateful comments, Alemania decided to take on Twitter and issued an apology.
Alemania also explained via Twitter that he is just being funny. His post read: "Dami nagbash sa post ko. I'm just makulit at my captions, di ko intensyon mambastos ng kapwa (A lot of people bashed at me because of my post. I'm just being playful with my captions. It is not my intention to disrespect my fellow people)." Another Twitter post read: "Sorry sa mga naoffend ko (Sorry to everyone I have offended)."
It can be seen through his social media accounts who Alemania is supporting in the 2016 elections. For president, he is for Duterte while the actor is for LP candidate Leni Reobredo for vice president.
Aside from his Twitter posts, Alemania also posted a "reminder" for the upcoming elections. The post talks about not letting this 2016 presidential debates injure and ruin our relationships with our friends, family members, and fellow Filipinos. The "reminder" also stated how we should take extra care in choosing our words when arguing with other people. At the end of the day, after all is said and done and after a president has been elected, we all have to live with the decision of the people.
Source: Kami.com.ph