It's Kuang Shiying, 94-year-old mother-in-law - better known as the little old lady who sued her own children for not taking care of her.
The drama that is playing out inside this ramshackle house reflects a wider and increasingly urgent dilemma. The world's population is aging fast, due to longer life spans and lower birth rates, and there will soon be more old people than young for the first time in history. This demographic about-turn has left families and governments struggling to decide: Who is responsible for the care of the elderly?
A handful of countries, such as India, France and Ukraine, require adult children to financially support their parents, mandating what was once a cultural given. Similar laws are in place in 29 U.S. states, Puerto Rico and most of Canada, though they are little known and rarely enforced because government funds help support the old. In Singapore, parents can sue their adult children for an allowance; those who fail to comply can face six months in jail.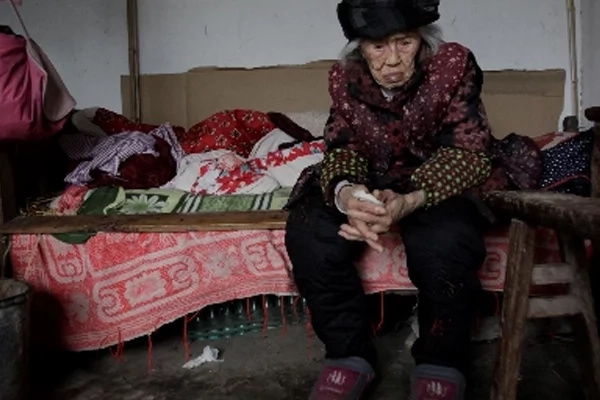 In China, where aid is scarce and family loyalty is a cornerstone of society, more than 1,000 parents have already sued their children for financial support over the last 15 years. But in December, the government went further, and amended its elder care law to require that children also support their parents emotionally. Children who don't visit their parents can be taken to court - by mom and dad.
There's the oldest son, Zhou Mingde, who lives about a mile (1.5 kilometers) away from his mother. His pension is $13 a month, so he depends on the $30 each of his three daughters gives him on his birthday and during Chinese New Year. He sells one pig a year to buy medicine for his paraplegic wife. He is still farming corn and millet because he cannot afford to stop.
"I have to take care of my old mother. My wife. Myself," he says. "I am 71 years old already."
Zhang Zefang now lives temporarily with her eldest son, Mingde, as the court ordered.
Her new home is crowded with clutter and complaints. Mingde frets about the cost of medical care. A frustrated Yinxi cries. Zhang clutches her walking stick and stares vacantly as she talks.
"I just wish I could die."
Source: Kami.com.ph