Filipina shares her inspiring travel experience in online journal
The story of this girl is so inspiring that we decided to publish it with almost no changes.
Please, share her story with your friends - this experience may be useful for them.
Also you are free to contact Karla and ask her more questions if you like to!
Hi KAMI!
I've been a fan of Korean dramas since I was elementary.
I remember staying up late just to watch the Endless Love Series.
If you're a fan of Korean Dramas, going to Korea will be your ultimate dream. I never thought that after few years, I'll be given a chance to work here. I'm now teaching English in Korea.
To maximize my stay here, I travel during my day off. Every week, I go to one place I've never been. After that, I write about my experience in my online journal which is Travel with Karla.
Surprisingly, I get so many readers and comments whenever I post about the filming locations I've been. Normal tourists will just post a selfie, foodie, or OOTD's to the place they've been but whenever I take pictures, I try to reenact the scenes.
Then one day a famous Facebook Page shared my album about Korean Drama Locations. A lot of fans started sending me messages about itineraries. They were sharing my Facebook Album, and even tagging their friends in the comments.
There was one point when I stopped opening my notifications because it's flooded. I decided to make a Facebook Page so I can entertain all the questions. Now, I've been touring Filipino tourists to the locations of their favorite dramas: Legend of the Blue Sea, Goblin, and Weightlifting Kim Bok Joo.
I would also like to take this opportunity to thank all the people who were inspired by pictures and adventures. I can't reply to them one by one but I really appreciate their messages.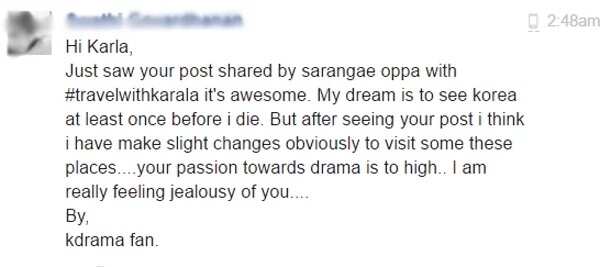 To other fans out there, if you need an itinerary or tour guide, you can contact me in https://www.facebook.com/travelwithkarla
https://travelwithkarla.wordpress.com/
Karla's Facebook Album
Source: KAMI.com.gh