Perlita Almonte, the OFW who miraculously woke up from 9-month-coma preparing to come home
- A miracle happened to Perlite Almonte, who was in com for nine months but has already awakened
- She was found unconscious in the bathroom and from then slipped into coma
- Doctor said she suffered from intracerebral hemorrhage because of aneurysmal bleeding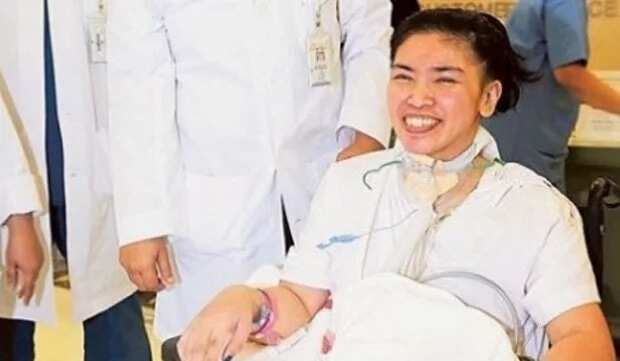 An OFW in Dubai who has been in coma for nine months has finally awaken. Thanks to the love and care she received from the people around her.
READ ALSO: Liza and Enrique admit they love each other
The OFW, Perlite Almonte, 35, met an accident while she was in her bathroom. It wasn't clear whether she slipped but she was found unconscious.
From that time, she slipped into a coma.
She was working at a courier service company in Dubai at that time.
READ ALSO: Vanessa Matsunaga rebukes basher who made comments on Daniel's finances
She was cared for at Rashid Hospital.
According to Dr. Zeyad Al Rais, Almonte suffered from intracerebral hemorrhage.
She underwent surgical intervention in order for her to survive.
READ ALSO: Mother shares sad story about discovering boyfriend has family
Now, she's looking forward to being with her family in the Philippines.
Here's another KAMI video to share.
Source: KAMI.com.gh