Miss Peru's first plus-size candidate, an inspiration - Pia
Miss Universe 2015 Pia Alonzo Wurtzbach expressed her admiration for Miss Peru's first plus-sized candidate and considered her an inspiration for many.
Wurtzbach, sitting as one of the judges to select the representative of Peru to this year's Miss Universe competition, praised 19-year-old Mirella Paz Baylon, the 2016 Miss Peru contestant who joined the contest despite receiving negative comments for her size.
In a Youtube video uploaded by BeautyBeauty, the reigning Miss Universe defended Baylon during a press conference and said: "She may not be what society's standards are of a beauty queen should be. But that's what the people think. And that's not reality."
"I think that she shows what a real woman is, who is confident in herself, who joined the pageant without hesitations. And I think that's the symbol and a perfect example of what a beauty queen should be," said Wurtzbach who draws wisdom from her own experience.
Speaking in a press conference for the Miss Peru beauty pageant, Wurtzbach recalled how she herself had to face criticisms about her size when she joined Miss Philippines.
"I won on my third try in Miss Philippines and I was one of the heaviest candidates. I was scrutinized for that but I used it as motivation before going on to Miss Universe," she said.
"It's not only about your body, but also your personality, and your face, and your attitude. And I always say that I'm also a curvaceous woman. And if I was able to make it as Miss Philippines and in Miss Universe not being the skinniest—so if I can do it, so can anybody else."
Wurtzbach also took to Instagram and posted a photo with Baylon for all her fans to see and draw inspiration from.
"I applaud this girl for fighting for what she wants. That's what it's all about. Happy to know that we'll be seeing Mirella again at the next Miss Peru pageant! Felicedades! Your presence alone on that stage made a huge statement globally. Congratulations," the caption read.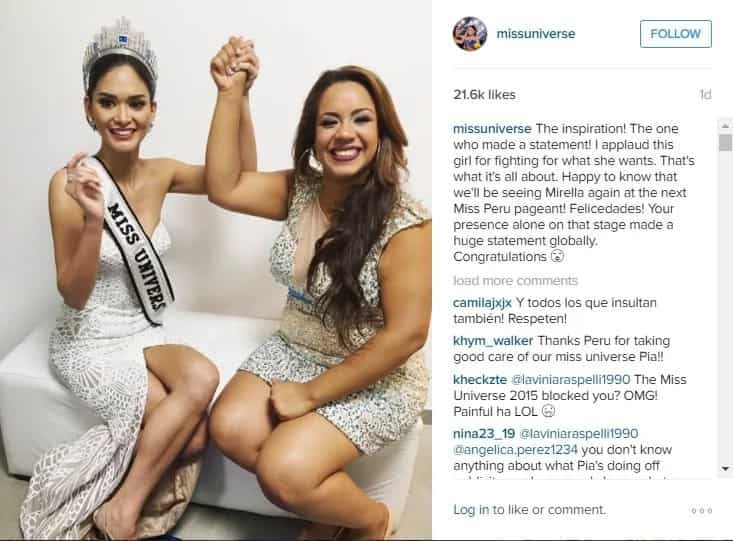 Wurtzbach's visit to Peru is her first in Latin America and comes after coming home to the Philippines to pass on her crown as Miss Philippines. She will go back to New York after her Latin American stint and continue to promote her advocacies including women empowerment.
Source: KAMI.com.gh