SOLventures: Scuba diving in Anilao
Editor's Note: Kami.com.ph believes that you deserve more spice in your life, so we are pleased to bring you "Solventures". It is a column dedicated to tempt you to get out of your comfort zone and live your life to the fullest through the musings of Solomon Say. Sol's zest for life is a virus; you can bet you'll get infected. He maybe a nerd for graduating summa cum laude in Finance but he has a heart for adventures and misadventures, which he fondly calls solventures. Enjoy!
SOLventures: Diving in Anilao, Batangas
Are you tired of hiking mountains?
Are you not into getting bathed in the sun too much?
Do you think most adventures are too mainstream?
Do you dream of visiting an almost alien like world?
Are you and your friends looking for a fun new thrill?
Do you want to go on an amazing adventure that has both excitement and zen?
Well, if you're tired of getting high… up on those mountains, there's a whole new world that awaits you under the sea! *" rel="nofollow" itemprop="url">Cue little mermaid*
Allow me to introduce to you scuba diving. It's like hiking but underwater, and far more relaxing.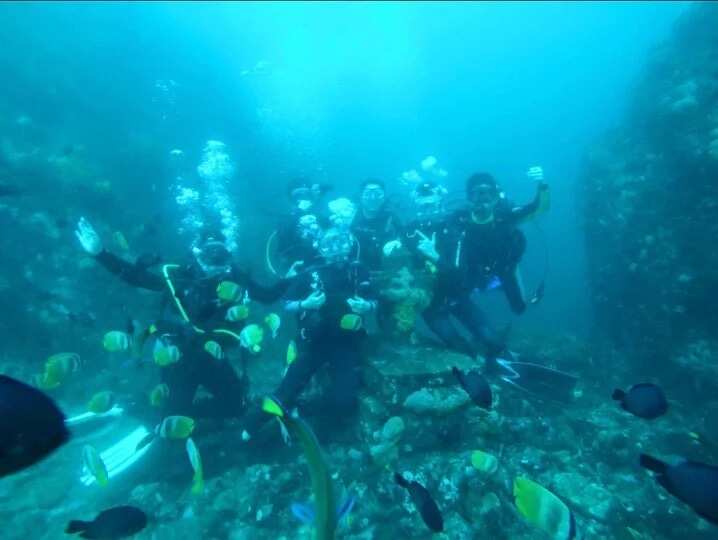 Q: Wow! What's scuba diving?
A: I like that enthusiasm! Now, to be very specific it's a type of diving that uses a Self-Contained Underwater Breathing Apparatus (Scuba); allowing you to go deep into the ocean for long periods of time. As holding your breath for 1 or more hours to swim underwater is not advisable. Unless you're Aquaman, in which case you don't really need to read on.
Q: Where can I go scuba diving?
A: there are many places to go scuba diving!
The closest spot to Metro Manila would be in Anilao, Batangas, which has over 40 different dive spots. So, you could literally spend 20 days in Anilao diving 2 spots per day.
Anilao, Batangas is just 3 hours away from the city, so you can do day trips or stay overnight.
Of course, the Philippines being an archipelago means that we have a lot of great beaches and dive spots to go around.
From Ilo-ilo to Palawan to Cebu and more!
Allow the Philippine Tourism board to list down the best places:
Q: Is scuba diving easy?
A: Yes, it's super easy! However, you will need to take lessons and get a license to really be able to go diving.
Q: A license? Lessons? Wow, that sounds like a lot. How long would it take for me to get licensed?
A: To be really technical, you'd need 4 pool diving sessions and 4 ocean diving sessions. You could, however, literally take it in an overnight trip to Anilao and finish the whole course in 2 days, something a few of my friends did after recommending them to scuba dive too.  Or you could spread it out and have the pool sessions either in Makati or San Juan before taking 1 or 2 day trips to Anilao to be able to complete your beach dives.
Q: Wow! Getting a license sounds like a piece of cake! It's just swimming around and stuff?
A: Well, generally you will be practicing and learning the basics of scuba diving and its principles such as not dying. However, Aside from the more practical exercises you'll be doing in the pool. You will also be doing exercises for your brain, by which I mean reading books and taking written exams.
Q: READING?! WRITTEN EXAMS?! I thought scuba diving was all fun and games??
A: Yes, well going underwater does have a lot of science to it. Stuff like pressure, air density, and buoyancy are all valuable things you'll need to know to be prepared for the amazing underwater adventures you'll have. But don't worry; the exams are all take home and open notes. Plus, the answer keys are all available online, not only allowing you to fast track taking the exams but to also give you the shortest fastest summaries to the most valuable lessons about scuba diving. Remember, it's not cheating. It's more like expediting the learning process.
Q: Is it possible to die while scuba diving?
A: It is quite possible. Yes.
One can die from scuba diving due to numerous reasons. But you only face the risk of dying if you're stupid and you panic. One of the common scary stories is that one can die if you panic during your dive and swim really fast to the surface, as that'll actually cause the nitrogen bubbles in your bloodstream to expand rapidly. However, that's what the lessons are for, for you to be calm and knowledgeable about what to do underwater and during emergencies.
Q: So you're saying it's safe?
A: Yes, tons of people go scuba diving around the world and keep doing it because they don't die. In general, you'll always have your dive master (and dive buddies) to go with you to ensure your safety. Plus, as long as you go to well-known and accredited dive resorts, you'll be sure that your equipment will be reliable and secure.
Q: How deep do you get to go?
A: You can get an Open Water Dive License which will allow you to go 60ft deep. Which is very deep. Like Lang Leav deep.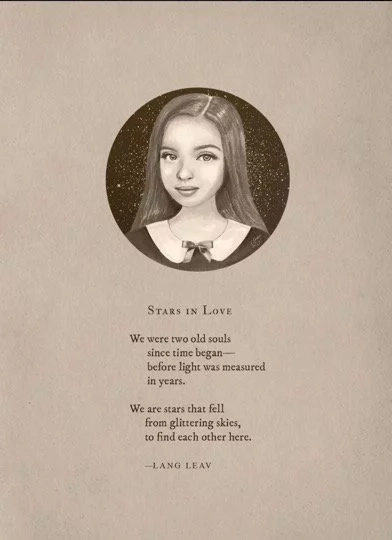 Wait, that's not that deep at all.
Bruh. Now that's deep. Like 60ft.
Q: What does scuba diving feel like?
A: Honestly, it all feels surreal. It's like you're in a totally different world. It all feels really relaxing and exhilarating to be able to witness all the beauty and grandeur of the undersea world with its mountains of corals and schools of fish.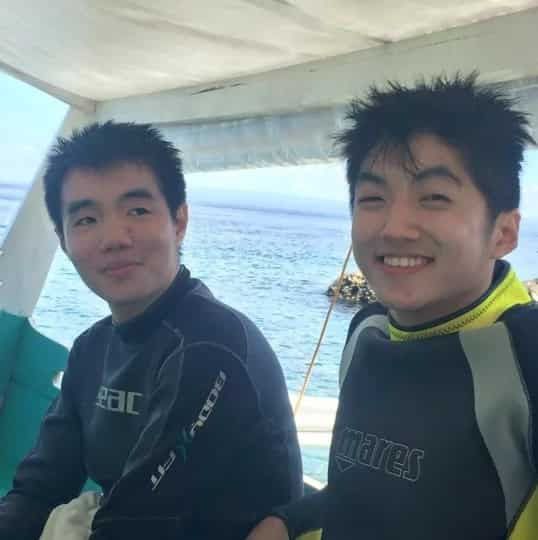 Q: What about the dangers of sharks?
A: Don't worry about sharks, in general your dive spots won't have any sharks. If ever there are any sharks, they won't bother you as they'll want to stay away from the unknown creature that sounds a lot like Darth Vader underwater.
Q: Are there any dangerous animals underwater?
A: Yes, you have creatures like the moral eel and other poisonous fish that roam the ocean. But don't worry these creatures won't attack, unless you provoke them.
Remember, when the moon hits your eye like a giant pizza pie, that's amore. When fish bites your heel and it looks like an eel, that's a Moray.
Q: how can I tell if a fish is poisonous and should be avoided?
A: Ah well, here's the thing, if a fish has no way of defending itself; it will run away from you. If you see a really beautiful colorful fish that's confident enough to swim close to you without running away. It's most probably dangerous. Just like a woman, if she's beautiful and confident, she's probably dangerous. *Cue Ne-Yo*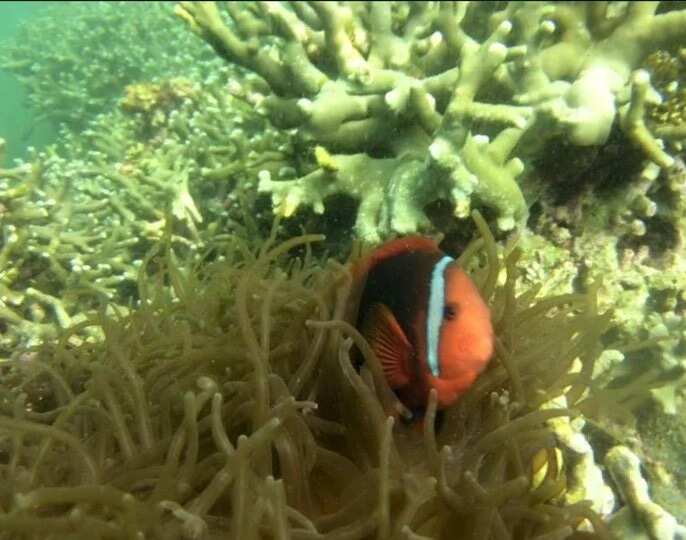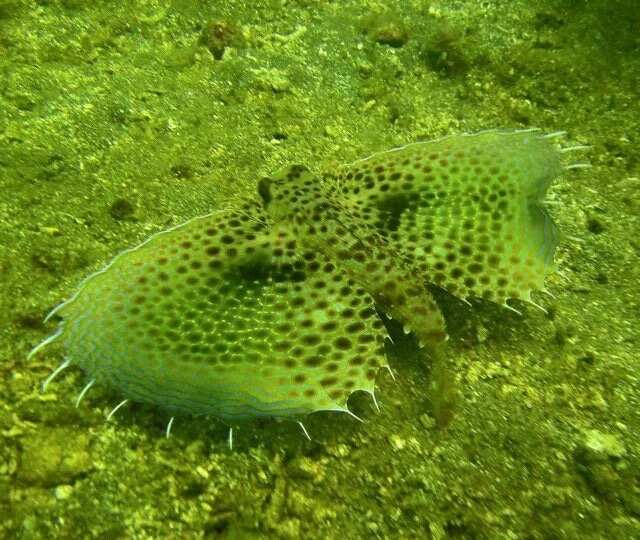 Q: Is it much better to dive with friends?
A: As with most things, diving is much more enjoyable with friends to not only share stories with but to also make sure that you've got your back covered. With your friends/Scubuddies/Scubros around you, you can be sure that they can save your life underwater like my friends did with me when I started running of air.
Also, bonus points if you get to drag your crush out because the basics of scuba diving will have you holding hands with a buddy. So obviously it's time to bring out the underwater moves.
DA MOVES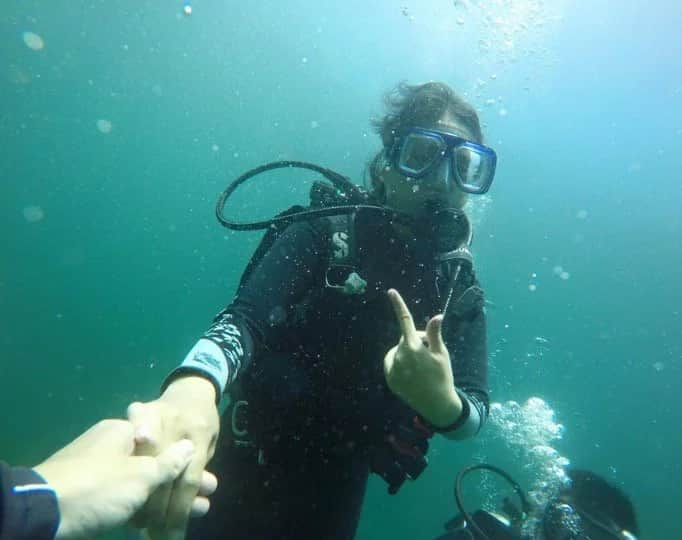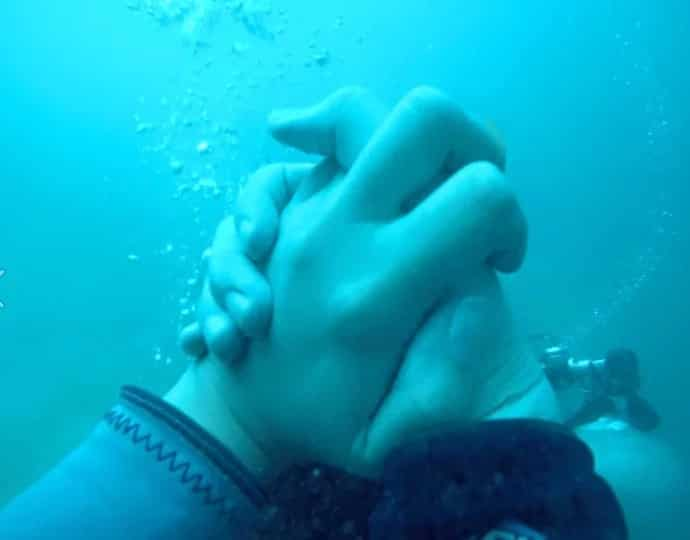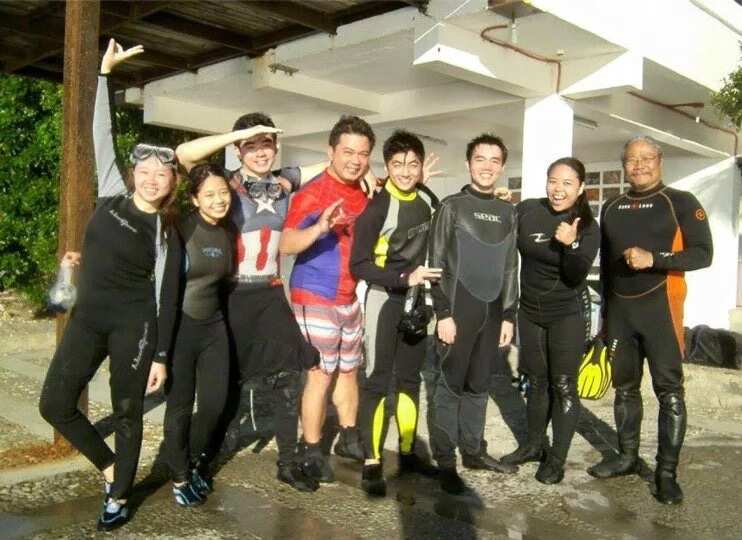 SCUBUDDIES!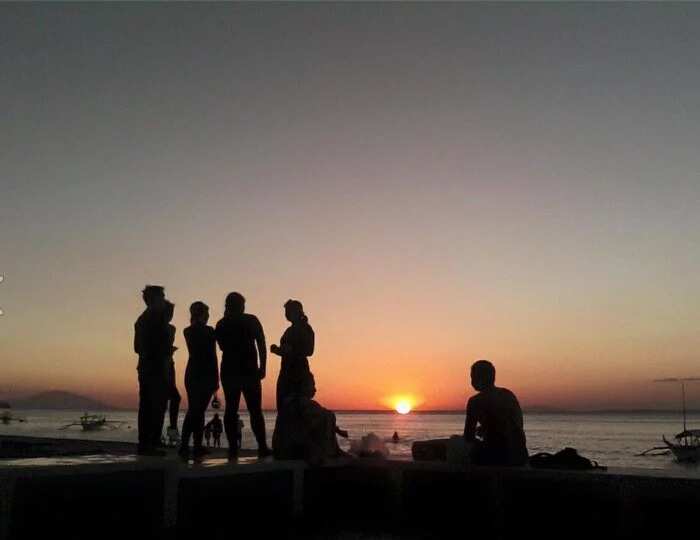 Q: How much is all this going to cost me?
A: Of course all great things have a cost. And scuba diving is a super great thing so it's going to be a tad bit costly.
Lessons P12500 (4 pool sessions and 4 Beach sessions)
Open Water Dive License P2500
Overnight Stay +Boat Rental+ Equipment Rental + Dive Master Fees+ Breakfast, Lunch , dinner, Breakfast, and Lunch P10,000
Optional:
If you wear glasses, I'd recommend buying a prescription scuba mask P6000
*These rates are based on taking my dive teacher and dive resort (Jojo Ng and Halo Dive resort)
Dive schools such as Dive academy can set you back 20-25K just on lessons alone.
Total: P25k
Now, that is a lot of money, but investing in the lessons and the license are worth it. Plus think of it as spending P6,250 per ocean dive and getting a license.
Without a license, some places may or may not let you dive. But it'll cost more. It could even cost up to 5k per dive. But with a license future dives will set you back only P1-2k per dive.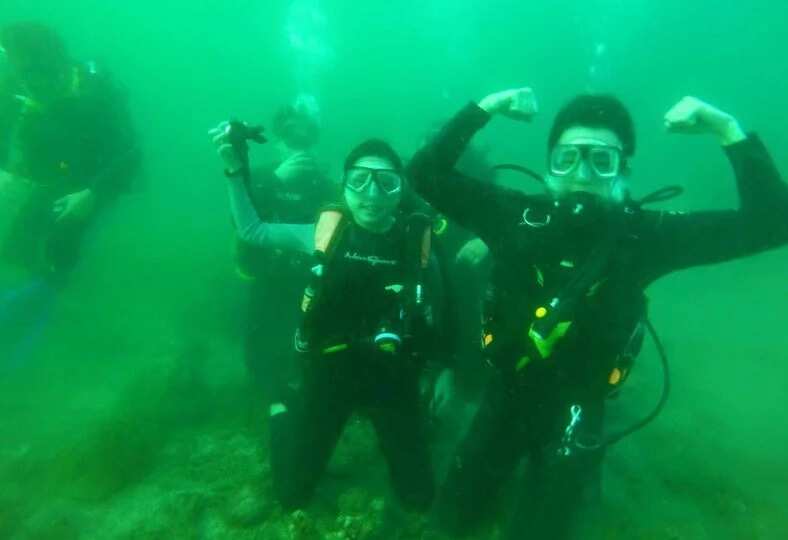 Q: Do I need to buy my own equipment?
A: Aside from a prescription scuba mask if you have terrible eyesight, you won't need to buy any equipment. Everything from the booties to the air tank is already included in the price of admission. In general, you'll always be renting equipment at different dive resorts you go to anyway. If you do end up falling in love with diving, then you could go ahead and start completing your dive gear one by one.
Q: Wow , that does seem a bit pricey but it does sound worth it, where can I learn how to dive?
A: Well, you can learn from many dive schools around the city or search for your own dive teacher online. However, I would really recommend you contact my dive teacher Jojo Ng at 0917 899 3286
Because he's seriously the best and he's super cool too.
Q: How can I take photos underwater?
A: Well, if you're an avid adventurer, I bet you already have a GoPro to bring around. That'll work perfectly for most of your dives. However, you might want to get a strap with it and a dive filter to make the colors pop. As the color red gets cut out underwater. You can also buy dive cases for your iPhone or for DSLR's which could cost P6-10k.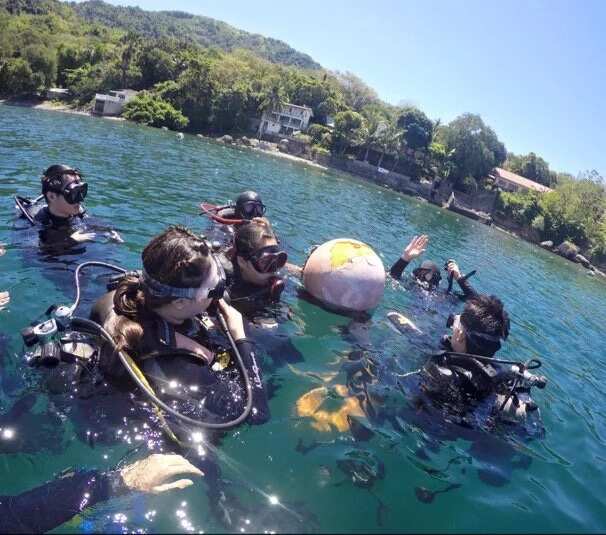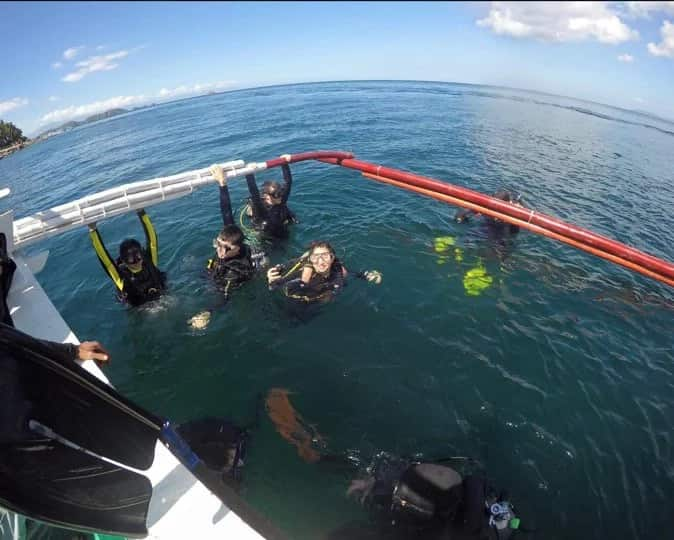 In closing, Scuba Diving is the perfect underwater activity you can do to really witness a totally new side to mother earth while feeling relaxed and at peace. It's a bit expensive but the investment is worth it as having an open water diving license can let you dive in different spots all over the world as long as it's 60ft (jaden smith) deep.
Tips: if you contact Jojo Ng, the prices I listed are pretty much the prices you'll get. Now those prices have already been haggled to the max, if you get to negotiate it lower, then I will salute you as you have bested the Chinese negotiation skills that my friends and I had to use.
Watch out for your air consumption, as different people can consume different amounts. I happen to consume air like some kind of monster. So, in general my dives last around 45 minutes while my friends last underwater for an hour.
Always, always consult with your dive teacher or dive master if you're unsure about something. Safety first.
A GoPro is the best go to camera for underwater shots. But best to bring a dive filter to add color to the photos and videos. Make sure it has a strap and anti fog filters too!
It's also best if you have a waterproof bag to keep all your valuables on the boat.
Scuba diving is extremely easy to learn but don't be too overconfident in thinking you can overcome any dive without the proper safety guidelines and dive master support.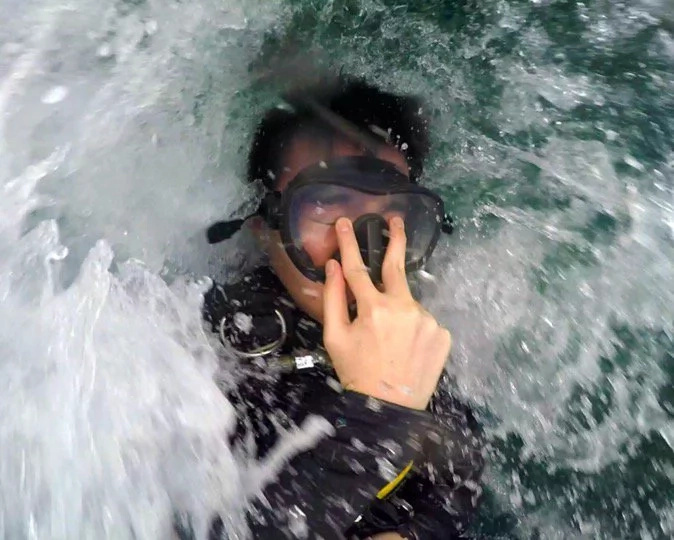 For a summary of my adventure check out this video:
by Solomon Say
___________________________________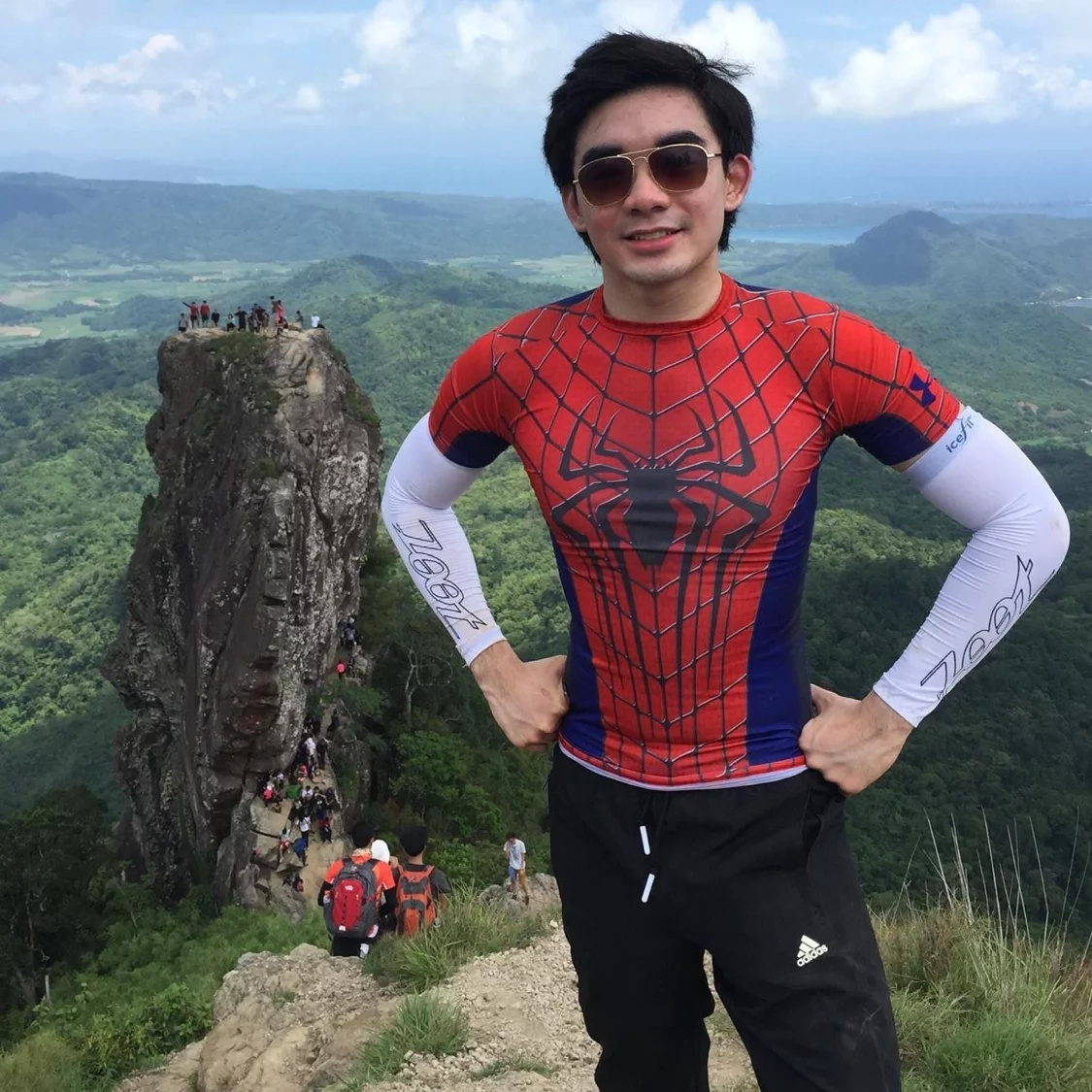 Solomon Say isn't a journalist. In fact, he's not even a writer. The only thing he  uses the keyboard for is to type down things like "Lol", "omg", and other things people too lazy to write complete words type.
After graduating Summa cum laude from De La Salle University with a degree in Management of Financial Institutions, he decided that he'd like to start having a passion for being crazy and stupid. This would eventually lead him to lose his mind and drag anyone and everyone he could to do insane adventures.
To sum up, Solomon likes long walks on the beach, talking about his feelings, and generally being all the things a girl wants. Date him today.
Source: KAMI.com.gh