1 husband with 13 pregnant wives at the same time. How he did this? Read full story to learn more!
- An unidentified man allegedly married with 13 women is expecting his first 13 children, because he got all his wives pregnant at the same time... really weird, isn't it?
Yes, there are times when a completely bizarre and insane news headline hits us and we're left wondering! And that is the case of this shocking and weird news that was revealed to the world when a picture was uploaded on social media.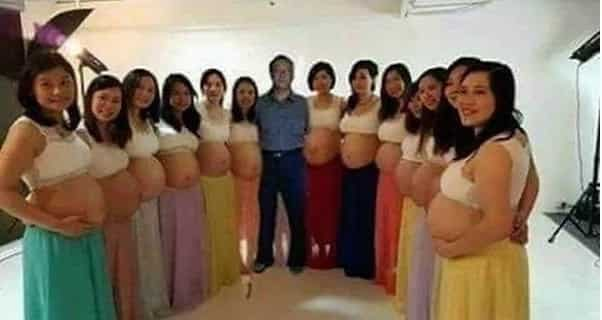 This image, which is apparently of a man in Nigeria (but it is highly doubtful) has been going around on social media and is having everyone trying to understand if it is fake or if it is a real deal.
The image is simple and shows a man standing in the middle flanked on both sides by heavily pregnant ladies, and let me tell you guys if this man really could get pregnant 13 women at the same time and in the same month, this man is a rock star.
But wait, because the most surprising part is that all his wives are happy and live together like a big happy family.
There's no original source provided for the image and it seems to be more or less one of the crazy online pranks or shares that go viral for no reason.
The first reason to doubt it is that Nigerian law does not support polygamy. Although rampant as a practice, it is forbidden by law and it is a crime.
Netizens have doubts, whether this photo is true or not. Looking at the man's legs, they claim that this photo was edited.
The second reason this could be untrue is that this looks more of a pregnancy photo-shoot by looking at the background.
Although the room is a studio, the heavy equipment, the similar way in which the women are dressed and their make-up all suggests a photo shoot! So then – real or a photo-shoot gone mad? You decide!
Source: KAMI.com.gh