- ABS-CBN's online news site committed a blunder by highlighting Jessy Mendiola in their headline about Sue Ramirez's new role as Korea tourism ambassador
- Didith Garvida, Jessy's mother, aired her side on the comments section of the article, telling netizens to not put malice on what has been written
- She revealed that her daughter's contract has ended, thus being replaced by a new ambassador
Since Jessy Mendiola's name has been brought up on Sue Ramirez's new role as the country's Korea tourism ambassador, her mother stepped in once more to pacify her bashers.
The 'Mano Po 7: Chinoy' actress has become a controversial figure this year due to her alleged involvement in Angel Locsin and Luis Manzano's split, as well as her speech when she won For Him Magazine's (FHM) Sexiest.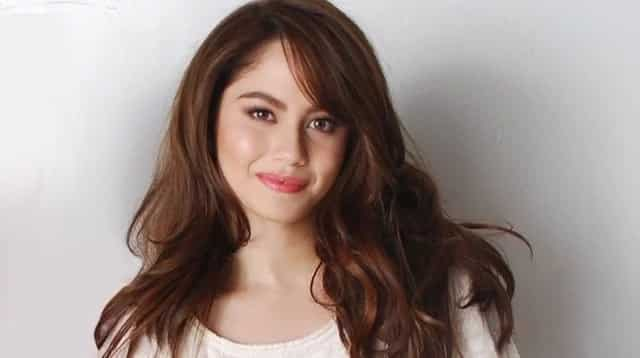 Yesterday evening, ABS-CBN's online news site dragged Jessy's name in the headline of their article but changed it to a simpler one that directly states of Sue's new title.
READ ALSO: You would not believe what ABS-CBN did to Jessy Mendiola on article about Korea tourism ambassador
Since bashers immediately appear in every mention of her name on social media, they took it out on the comments section of the article on Facebook to air out their sentiments.
This has made Didith Garvida, Jessy's mother, to speak up on behalf of her daughter and attempted to calm the haters with her statement.
She said that most commenters viewed the article with malice since her daughter's name was on its headline. She also clarified that there is a duration for every tourism ambassador, which usually lasts for a year.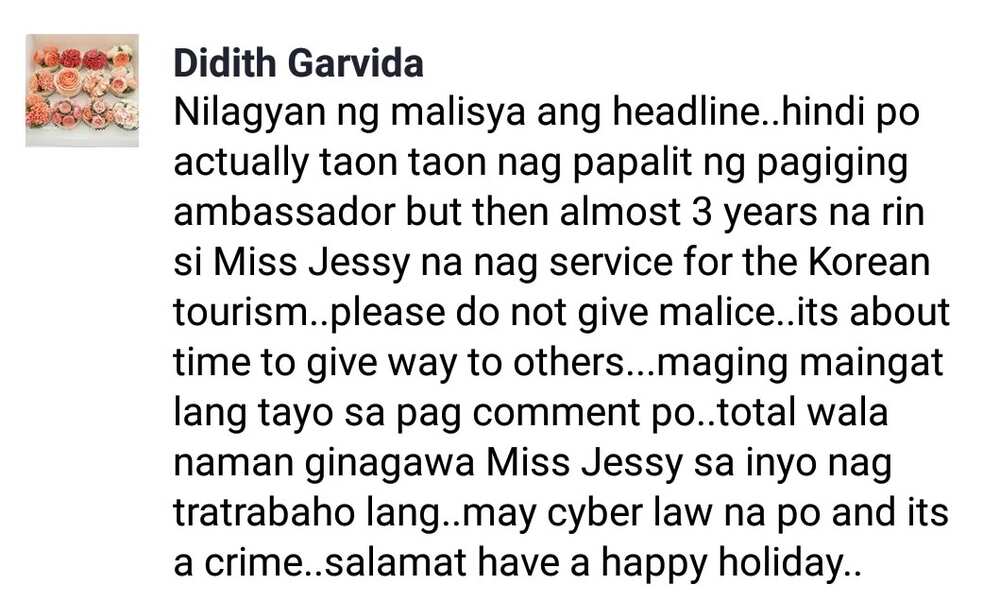 READ ALSO: Makinig sa sabi ni nanay! Jessy Mendiola's mother gives unsolicited advice to Daniel Matsunaga
Like what Jessy confirmed on Instagram, Didith reiterated that her daughter held the position for three years and felt that it was about time to give others a chance.
Since the bashers could not be stopped from their vitriolic comments, she also told them to be more careful of what they say on the Internet since they can be convicted of the cyber crime law.
Prior to that statement, she tried to exude good vibes with her first comment by stating the facts of Jessy's contract and asking them not to give any more malice to the article's headline.

READ ALSO: 4 Pinay celebs other than Jessy Mendiola with epic fail answers you cannot bear to watch
We have noticed that most issues Jessy is involved in, Didith speaks up - which might be both a good and a bad thing depending on how one sees it.
While most netizens would laud Jessy's mother for protecting and defending her daughter, others think that she is overreacting on something that should not be a big deal.
Even if she has become a notorious figure this year, it cannot be denied that the actress has become sexier and deserves to be in this list of hottest celebrities.
READ ALSO: 3 times Jessy Mendiola shamed herself beyond redemption