Lionel Messi Goes To Meet Little Afghan Boy Who Meet Messi's Shirt Out Of A Plastic Bag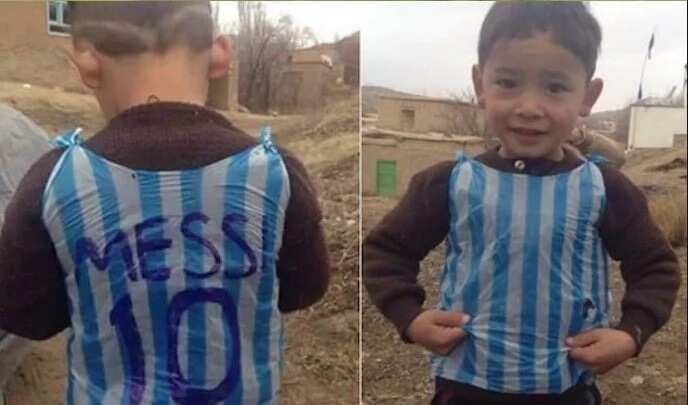 - A little boy from Afghanistan who made a DIY football shirt in the Argentinian colors with Messi's name and number scribbled on the back finally got to meet his hero
- When photos of the boy went viral a group of people teamed up to help fulfill his wish
- The boy's father said the family were forced to move because of the boy's new fame
A little boy from Afghanistan was made internet headlines when he donned a blue and white striped plastic bag with "Messi 10" scrawled on the back.
When the photos of five-year-old Murtaza Ahmadi in the Argentinian colors went viral a bunch of bleeding hearts teamed up to help the child meet his idol.
It took some effort to track the boy down. He lived in poverty in the eastern Ghazni region where he was delivered to the football legend.
It was agreed that the two would meet in Doha and the boy would walk onto the field with the footballer.
However there was a dark side to the boy's fame. The family live in a war-torn and poverty-stricken part of the world and when the boy became slightly famous the family was flooded with threats.
The father feared his son would be kidnapped so they moved to Islamabad, but couldn't settle down there because they could not afford it, from which they moved to Quetta.
"I sold all my belongings and brought my family out of Afghanistan to save my son's life as well as the lives of the rest of the family," the father recalls.
Source: KAMI.com.gh