- A video of a girl showing off her crazy driving skills went viral on social media
- The girl played as a sales lady in a car company and shocked male buyers with her driving skills
- The video turned out to be a prank which gained more than 350,000 views on Facebook
These boys who were teasing a pretty girl who works in a car company were more than shocked when she asked them to test-drive one of the car models.
A Facebook page uploaded a video showing a woman who works at a car company, entertaining different guy customers who were interested in one of the car models. One of the guys were seen teasing the girl, even saying "really soft hands" when he shook her hands as he asked her name and added "What's a pretty girl like you doing... you know, selling cars?"
Another even corrected her saying: "No you're wrong. Actually, you have to put in neutral first and then only you can change."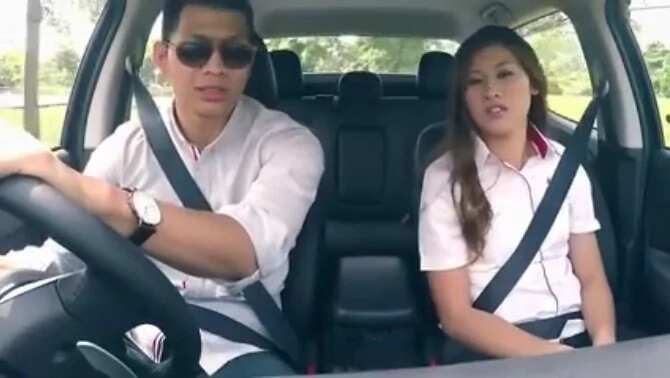 READ ALSO: These photos prove: such amazing women really exist
The girl then asked the gust to do a test-drive as she sat on the passenger's seat. After a few moments, the girl asked if she could drive the car to show them what it can really do.
The guys then started screaming at the top of their lungs when the girl started drifting the car and went round and round the vacant area in full speed.
Apparently, all the rides were recorded and the whole thing was a prank. The girl, who played as a sales lady, is actually a Malaysian professional car drifter Leona Chin.
READ ALSO: Girl imitates Pokémon voices
The video went viral on social media gaining positive reactions from the netizens. One Facebook user commented:
"whahahaha ang yabang nung guy n naka white wala namn pla binatbat kay ate...ang cool nung fat guy his enjoying the ride lng.. astig mo ate i salute you two thumbs up"
Another netizen wrote:
"Hahaha! Bangis! Tanggal ang yabang ng mga lalaki higpit ng kapit! Lakas ng sigaw hahaha!"
The video already gained more than 350,000 views on Facebook.
Watch the video here:
READ ALSO: Meet the HOTTEST female politician in the world
Source: Kami.com.ph