- Ellen Adarna is mum about the rumors that she is dating presidential son Baste Duterte
- The rumors started when the couple snapped a photo together in Siargao at Beauty Gonzales' birthday
- There are hearsays that Ellen is thirsty for the presidential son since it will boost her career
Hot actress Ellen Adarna is silent about the rumors that she is dating Sebastian "Baste" Duterte, but people cannot help but speculate whether she is the one pursuing the presidential son.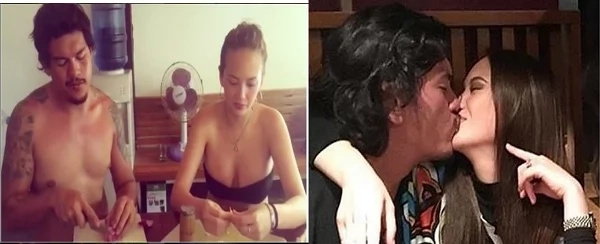 READ ALSO: Ellen Adarna, Baste Duterte's gf?
While Ellen Adarna previously denied any romantic relationship between her and Baste Duterte, her Instagram posts are suggesting otherwise. However, when reporters asked her directly about the real score between them, the actress responded, "Tanungin nyo na lang siya".
It seems that Ellen does not want to say anything about her alleged relationship with the presidential son. An Instagram video leaked that showed the two were caught kissing that exacerbates the rumors.
READ ALSO: Ellen Adarna naked at the beach with Mark Nicdao
On October 30, Ellen posted a sweet (but could also be friendly, too) photo where she was comfortably hugging Bastefrom behind.
She wrote on the caption: "Oh sebastian."
Following that, one netizen with the username @jennybueuge commented in a critiquinq manner, to which Baste replied using Cebuano dialect: "@jennybeuge Hilom (Shut up)."
READ ALSO: Ellen Adarna clarifies why she is close to Baste Duterte
While there is an undeniable closeness between the two, Ellen hinted that they are just friends. The rumors started when they snapped a photo together in Siargao in May when they both attended Beauty Gonzales' birthday bash.
READ ALSO: 8 photos of Ellen Adarna that prove she's one of the hottest Filipinas