- Five years ago Natalie Allman was attack while she was sleeping by her former fiancé in front of their two-year-old twins
- The couple split because Jason Hughes started drinking heavily and tried controlling Natalie
- After a Contact Order court ruled that she must send 3 letters per year to keep Hughes updated on the boys
Natalie Allman and Jason Hughes were a happy couple with a couple of 2-year-old twin boys, but everything changed when Jason started drinking heavily and tried controlling Natalie and everything she did.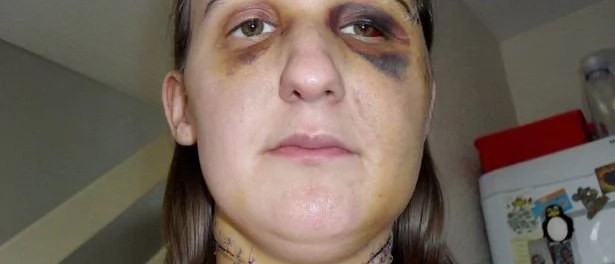 After three years of relationship Nataly called off the engagement and the two separated and continued living together until Jason found another place to live.
One morning in 2011, Natalie woke up to Hughes smothering her with a pillow. But that wasn´t all, because he proceeded to slam her and cut her throat in front of their 2 years old twins.
Natalie suffered eight wounds to the head and five facial fractures. The slash across her neck was 8 inches long.
Natalie recovered and moved on with her life in 2013, when she met a man and had another child. But when she thought that everything was back to normal Jason plied for a Residence and Contact Order under the Children Act of 1989.
Despite Natalie fought the order were he demanded that he received 6 letters a year and phone calls from their twin boys on their birthdays and Christmas the courts ruled that she must send 3 letters per year to keep Hughes updated on the boys.
But of course, it's not just the order itself that is clearly outrageous, but the consequences she could face in a scenario in which she refuses to write letters to her attempted murderer.
"I could end up being split up from my children and sent to prison when he was the one who attacked me," Natalie stated. "I am the one being treated like a criminal."
Source: Kami.com.ph