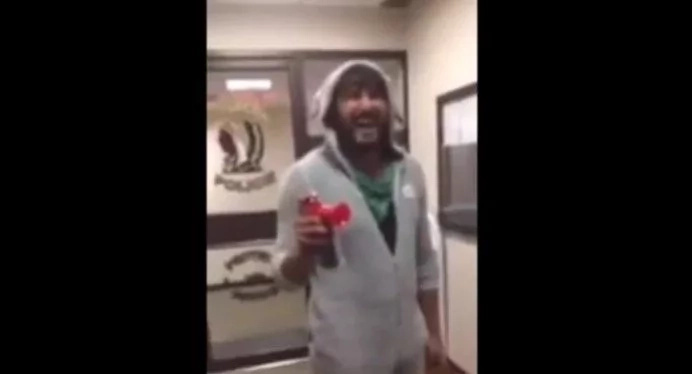 - This video captures the moment a police officer beat a prankster for his silly pranks
- The prankster, wearing a hooded onesie, enters a police station and begins to irritate people by blaring a loud horn
- For his actions the prankster was beat up by a police officer
This video captures the moment a prankster got beat up by a police officer for playing the stupidest prank.
The 'prankster' is a grown man dressed in a full body onesie suit of what seems to be either a dog or a rabbit.
The video begins with the prankster standing inside the hall of a police building and honking a horn. He states that he would like to turn himself in but when he is asked for what crime he just keeps on honking his irritating horn.
He even gives his name when asked and for each word he speaks he honks his little horn. And sometimes he would honk it just for fun. The prankster giggles after every honk of the horn and laughs into the camera: "I'm so bad."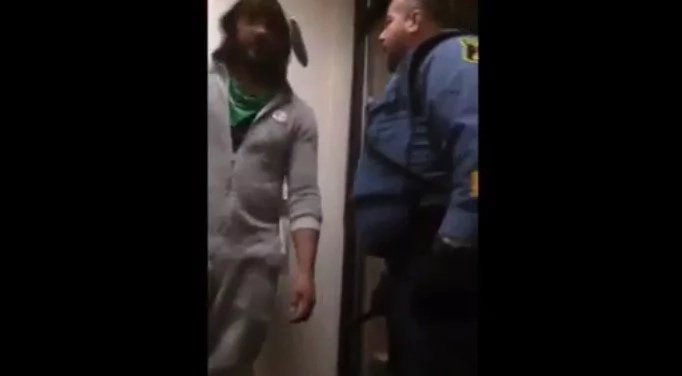 "This isn't as fun as I thought it would be," he tells the cameraman.
"It will be more fun when the cops come, I guess," says the cameraman.
It doesn't take long for the cops to come. A burly cop wearing body armor bursts through the door and one look at his demeanor is enough to tell anybody that he's pissed.
"Why you doing that?" he asks the prankster.
The prankster is clearly scared of the officer and mumbles something back.
"You don't know? Huh?" says the police officer and slaps the prankster across the face. He then proceeds to grab the prankster by the collar and drag him off the premises of the police station while his partner confronts the cameraman.
The next scene begins with the cameraman on the street outside the station. He says into the camera through tears: "Help everybody on Facebook live just saw this f*cking cop hit my brother."
He opens the doors to the police station and shouts: "And they're going to get sued!"
Source: Kami.com.ph