- CCTV footage captured the shocking moment a crazed man attacked people with a cleaver
- In the video he can be seen wildly slashing his weapon around in what seems to be a small office or computer club
- People escaped his attacks by the skin of their teeth. The blade of the crazed man cut air just inches away from the limbs of his chosen victims
This horrifying CCTV footage shows us the moment a crazed man armed with a meat cleaver began attacking people.
The CCTV footage begins with the man entering what seems to be a small office or a computer club. The man instantly begins slashing around with the cleaver barely hitting people in the room.
The crazed man raises the cleaver above his head and slashes down on a man sitting on a bench. The blade passes mere inches away from the man almost gutting him on the spot.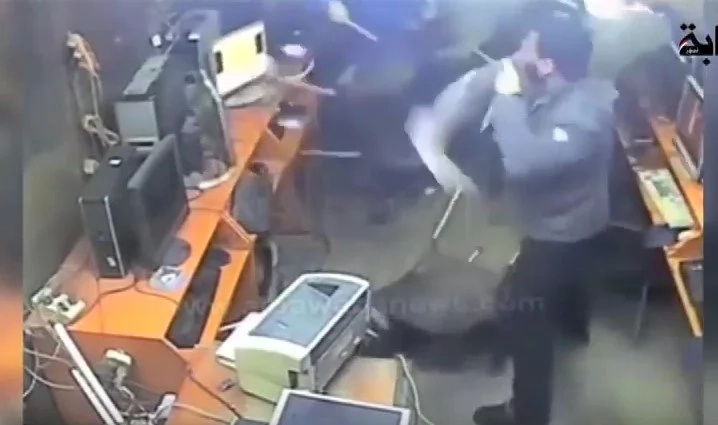 The crazed man doesn't stop and slashes right toward a man sitting behind a desk. The man behind the desk barely dodges the cut. He and the other prank victim make a run towards the door as the crazed cleaver wielding maniac runs after them.
However the maniac stops at the door and turns around toward the other entrance. Inside huddled against each other stand four men armed with office furniture.
The crazed man slashes at them wildly as they try to parry his blows with chairs. At one point one of them grabs a printer and throws it at the crazy guy.
This drives the crazy man totally insane and he just jumps into the crowd like a berserker and blindly slashes at the men. Pieces of plastic chairs are flying everywhere with each blow and pile up in black flakes on the floor.
He takes a couple of steps back and the video ends. He turns his head toward the exit and it seems as if he heard the police or people calling him from outside.
Source: Kami.com.ph