- Mistresses have become one of the most controversial figures in the planet
- A netizen captured a video of a legal wife turning savage at her encounter with her husband's mistress
- The poor mistress passed out after the legal wife pulled her hair and threw punches
READ ALSO: Nakakagalit naman si kuya! Pinoy man pins down and brutally punches woman in the faces
Aside from politicians and prostitutes, mistresses are some of the people who automatically get a bad reputation.
Although some men can hide theirs until they die, others don't - it can get pretty ugly when a confrontation happens.
Such is the case when the legal wife finally met the mistress of her husband at a mall.
READ ALSO: Kadiri naman 'to! 22-year-old newly buried girl excavated and raped in Davao Oriental
In this clip captured by the netizen, the legal wife pulled on the hair of the mistress who was not able to do anything to defend herself.
Her husband and the daughter of the mistress were trying to stop the commotion she has caused, but to no avail - she even dragged the poor woman and punched her countless of times.
More people tried to pry them apart but the legal wife was unstoppable as she continued to attack the mistress.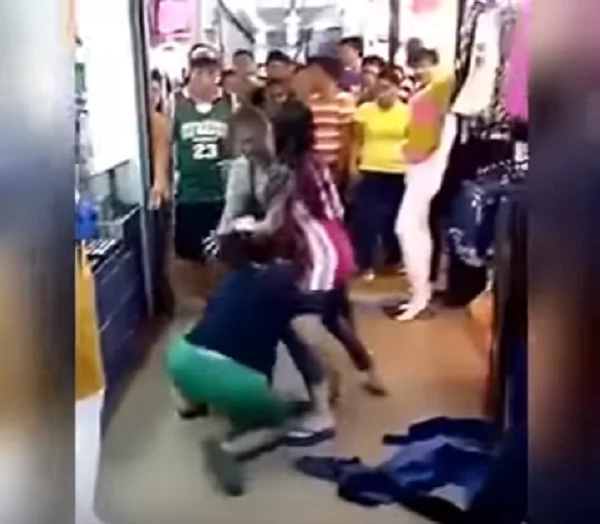 READ ALSO: Sana may tumulong sa kanya ngayong pasko! Concerned netizen shares moving story of disabled young Pinoy
It took some time before she went calm and stopped hitting on the poor woman, but the receipient of her attacks was not doing well.
In the end, the mistress passed out - who wouldn't be when your opponent is comparable to an Amazon woman?
Here is the clip of the savage legal wife beating the mistress senseless, which has become viral.
We can only assume the reasons why the man has decided to leave his wife - maybe the following clip can help us come to a conclusion?
READ ALSO: May himala nga ba? Bleeding miraculous image of Jesus caught on video
Source: Kami.com.ph