- President Rodrigo Duterte finally met Russian President Vladimir Putin in Peru for the APEC forum
- Duterte has constantly expressed his admiration for Putin and his leadership
- The PH President said that the PH longs to be part of Europe and said that the US is a bully
The first bilateral meeting between Philippine President Rodrigo Duterte and Russian President Vladimir Putin took place in Lima, Peru during the Asia-Pacific Economic Cooperation.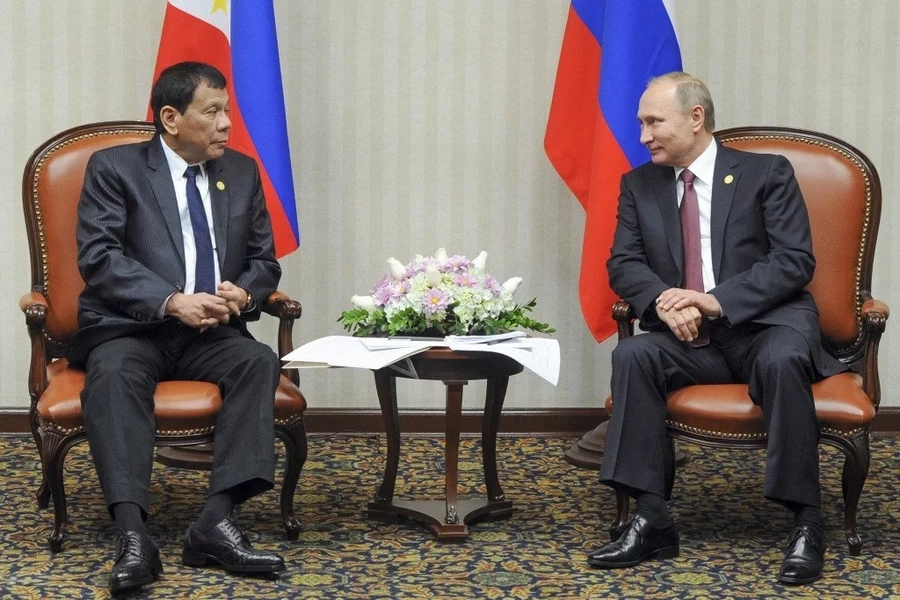 Duterte has constantly expressed his admiration for the Russian president and his leadership.
READ ALSO: PH economy grows fastest in Asia
"I have been looking for this moment to meet you, Mr. President, not only because you represent a great country but because of your leadership, too," Duterte said.
In a bizarre turn of phrase, the PH president hinted that the Philippines wished to be part of Europe, despite his disdain for the European Union before.
"And we've been longing to be part of-despite the distance- we have been longing to be part of Europe, especially in commerce and trade around the world," he explained.
READ ALSO: Koko Pimentel proposes "Libingan ng mga Makasaysayang Pilipino"
Moreover, Duterte pointed out the hypocrisy of the West in involving itself in the affairs of other countries.
"They want to seem to start a war but are afraid to go to war. That is what's wrong with America and the others. They are waging war in so many places: in Vietnam, Afghanistan, and in Iraq," Duterte said.
On the other hand, Putin congratulated Duterte for his work. The Russian president also expressed his hope for the diplomatic ties between Russia and the Philippines to flourish.
READ ALSO: Marcos family and supporters attend vigil at LNMB
"Well, you have been able to do a lot in a short period of time in terms of developing all around partnership between our countries and with respect to promoting greater trust and confidence between us," said Putin.
Last week, Putin pulled out of the International Criminal Court and Duterte also expressed his interest in doing the same thing.
Source: Kami.com.ph