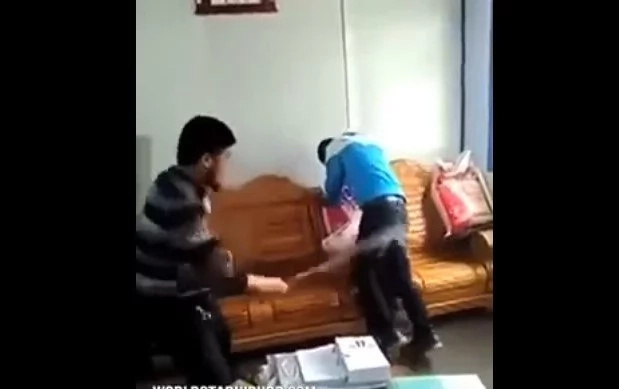 - This video shows the moment a teacher is physically punishing a group of students by hitting their behinds with a stick
- The students don't do much to protect themselves from the onslaught of the pedagogue
- All-in-all the teacher punishes four students in the timespan of this short video
This video captures the moment an Asian teacher punishes an unruly student with a stick.
The video begins with two students in dunce caps standing meekly in front of their teacher.
The student is trying to protect himself from the teacher and turns his back to the attacker. But that seems exactly what the teacher wants.
The teacher is armed with a long stick which he uses with long practiced precision. He whacks the punk student across the behind with loud cracking whoops.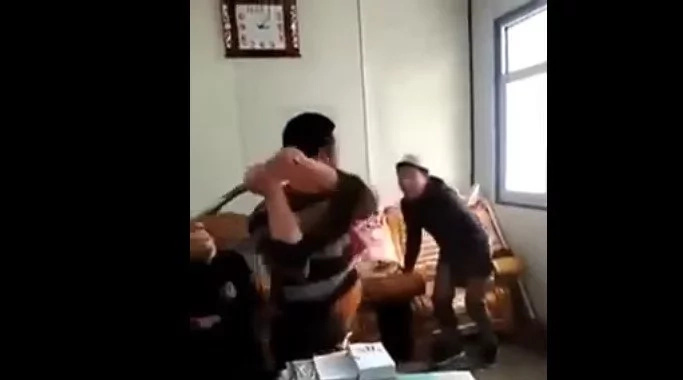 The student turns around and tries to apologize but the teacher clearly shows that the time for that has passed. He hits the student again which elicits a loud yelp. The student seeks solace from the brutal beating by huddling against his partner-in-crime but to no avail.
The teacher commands him to get up and the student obeys. He delivers the final blows to the first students behind and tells the second student to get up and prepare his butt for the punishment.
The second punk takes the first couple of whacks like a trooper but even his behind can't take the brutal punishment of the furious teacher. After a couple of more hits he crumples to the ground. At this point he gets down and starts to beg his teacher to stop the punishment; however, the teacher is adamant that the punishment continue.
The third and fourth students take the punishment like champs and that where the video ends.
Source: Kami.com.ph