After Decades Of Work Jackie Chan Finally Gets Honorary Oscar Award
- Jackie Chan was finally awarded an honorary Oscar after years of starring in movies and performing his own stunts
- Tom Hanks presented Jackie Chan the long deserved Oscar in front of a large crowd at Hollywood
- Jackie Chan gave a heartwarming speech after receiving his Oscar
After spending decades in the film industry, literally blood, sweat and tears Jackie Chan was finally awarded an Oscar.
62-year-old Jackie Chan was awarded an honorary Oscar on the Eighth Annual Governor Awards at Hollywood, Los Angeles.
The award was presented to Jackie Chan by Tom Hanks, Michele Yeoh and Chris Tucker.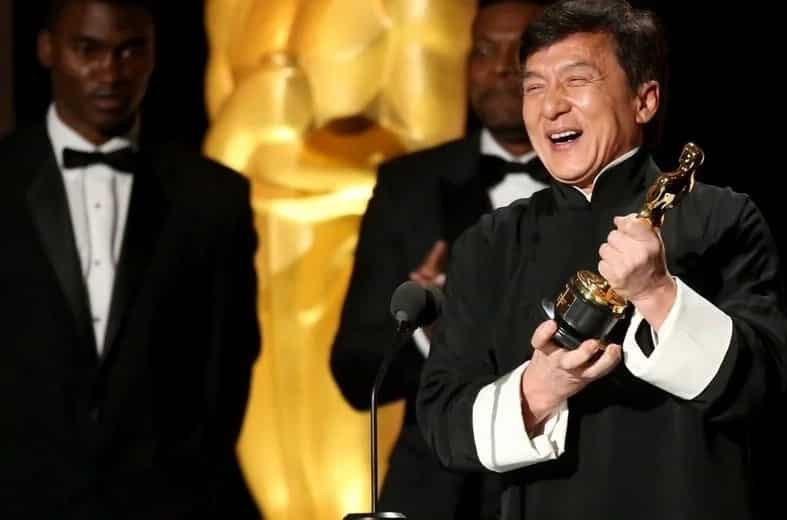 "As you know the Governors Awards are a chance for the Academy to recognize unique achievements across an artist's whole body of work, because Jackie Chan, the man that puts the 'Chan' in 'Chan-Tastic,' because he has worked mostly in martial arts films and action comedies, two genres that have been, for some reason, shall we say, historically underrepresented at the Oscars, a fact that will change if I have any pull on the board of Governors," said Tom Hanks at the Oscar ceremony.
The actor added: "Great acting coms in many different forms, but if you are an actor you always know it when you see it. Jackie Chan's films have been incredibly serious, sometimes gruesomely so, as well as incredibly hilarious to the point pop delighting millions of peoples around the globe."
Tom Hanks compared Jackie Chan to action legends of the past such as John Wayne and Buster Keaton.
Jackie Chan was quite surprised for receiving the award because he only made comedy action movies.
"After 56 years in the film industry, making over 200 films, I've broken so many bones, finally this is mine," said Jackie Chan.
Source: Kami.com.ph