- Actor Robin Padilla revealed Mariel's family voted for Donald Trump
- Robin has been trying to get a US Visa for the past few weeks to be with pregnant wife
- Mariel has suffered three miscarriages before prompting her decision to give birth in the States
Desperate times call for desperate measures. Action star Robin Padilla tried to appeal to the United States by saying that his wife Mariel and her family voted for President-elect Donald Trump.
READ ALSO: Robin Padilla eyes for executive clemency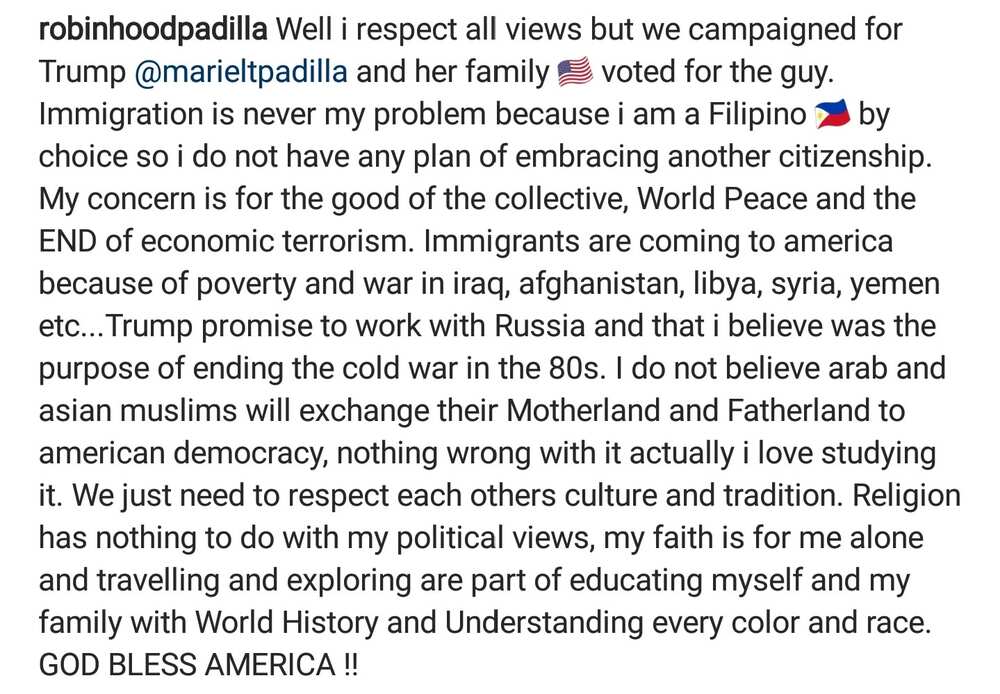 In another meaningful Instagram post, Robin revealed that Mariel's family based in the US campaigned and voted for Trump. Robin also believed that Trump's intention of seeking Russia's help is to end the cold war since the 1980s and to bring peace among nations.
READ ALSO: Robin hopes for US Visa to be with Mariel during delivery
Trump's victory is the conclusion of one of the most controversial US elections. Democrat candidate Hillary Clinton garnered more number of votes, but the centuries-old electoral college favored trump.
He added that Muslims will not turn their backs on their "Motherland and Fatherland". He said that he loves studying American democracy and that we should respect each other's culture and tradition.
READ ALSO: Robin Padilla worries for Mariel Padilla as he awaits U.S. Visa
Robin has been on a quest seeking approval to travel to US to be beside his pregnant wife Mariel as the baby is due soon. However, it seemed that the actor is having difficulty getting a US visa that will allow him to enter the states probably because of his previous records. The actor even went as far as seeking the help of his friends and colleagues for recommendation for his application.
It can be remembered that Mariel has suffered three miscarriages before prompting her decision to give birth in the US to assure her baby's safety. As the father, Robin must be very anxious about his wife's condition and he wanted to be by his family's side and take care of them.
READ ALSO: Robin Padilla bares feelings on Mariel's miscarriage