Regine Velasquez hits back at supporters of Davao City Mayor Rodrigo 'Rody' Duterte after she was bashed on Instagram for her post against rape.
Last April 17, she posted a picture on Instagram that says 'Rape is not a joke', with the caption: "Kelan po ba naging joke ito?" (When has it ever been a joke?)
"In my mind and heart we should be sensitive about joking about this issue because many have suffered because of rape. It is a serious issue. Not a joking matter. #respetolangpo"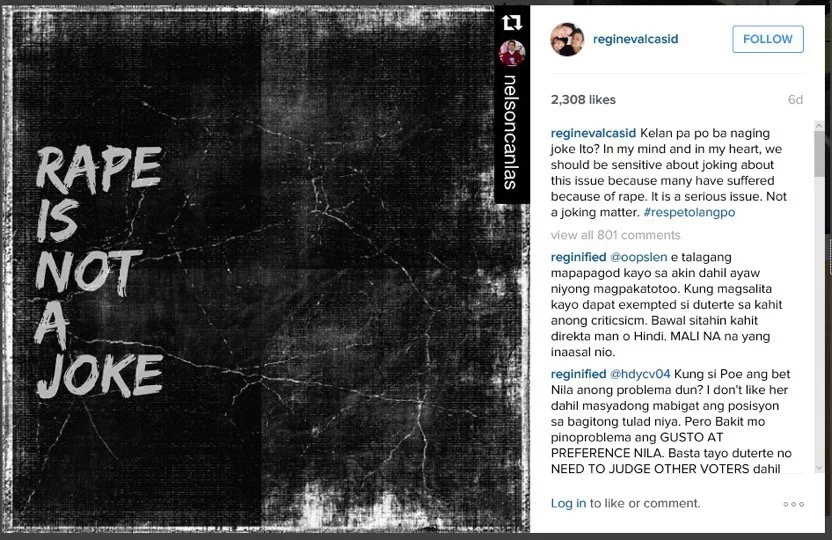 After the post, several Duterte supporters commented in defense of their presidential bid. Some comments, however, were hurtful and were personal attacks that had nothing to do with Duterte and the rape issue.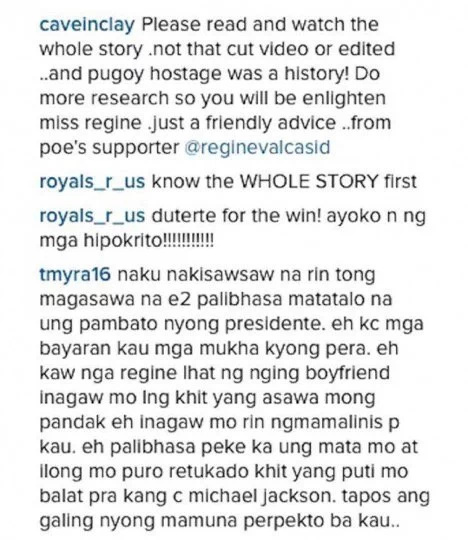 The unnecessary ad hominems and immense number of Duterte-related comments prompted the Songbird to respond and to clarify in a comment of her own.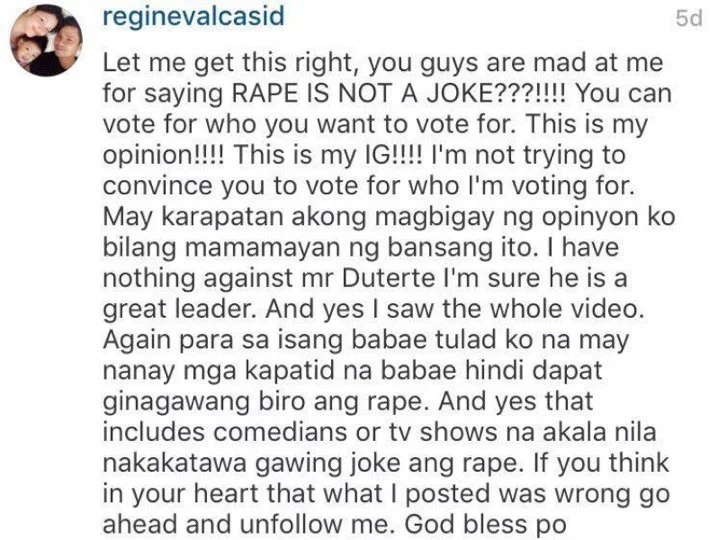 She expressed her outrage at being insulted over her stance against jokes about rape, and reminded everyone that it was her Instagram - therefore she was allowed to post whatever she wanted. Furthermore, she insisted she had no bad intentions against anybody with her post, because it was just her opinion.
While she clarified that she had no problems with Mayor Duterte, she also said that she found his joke to be in poor taste because of other women like her - women who also had mothers and sisters -  who were and could possibly be a victim of rape as well. This critique was not just for Duterte, but for tv shows or comedians who think rape is something that can be laughed at.
Her criticism of rape was prompted by Duterte's viral video, wherein he joked about the rape and death of a female Australian missionary.
Regine Velasquez is not the only Philippine celebrity to disapprove of Duterte; Gab Valenciano, Noel Cabangon, Chito Miranda and Leah Navarro have also taken to social media to express their displeasure of the presidential candidate.
Source: Kami.com.ph