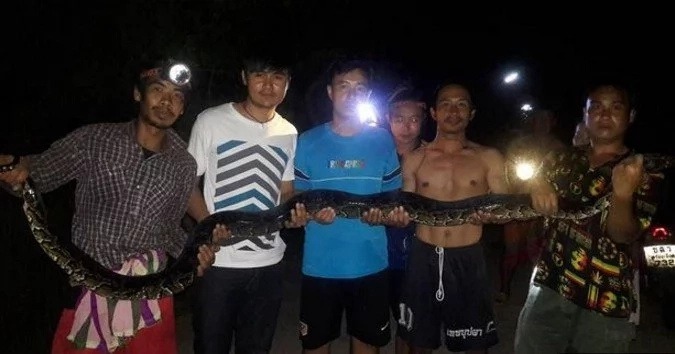 - A woman in Thailand came crying for help stating that a gigantic snake attacked near the road and eight men volunteered to go out and search for the snake
- When they found the culprit they were shocked by the size of the beast
- It took all eight of the men to eventually wrestle the three meter long snake into a bag
- After it was stuffed inside a bag they took it into the middle of the jungle where it was set free far away from any human settlemts
This video captures the spine chilling moment 8 men wrestle a 3 meter long python that attacked a woman in the village.
A woman claims that she was attacked by the gigantic snake near the side of the road in Nakhon Nyok, Thailand. When she told her story to the villagers 8 brave men went out to hunt it.
The men searched all night hunting for the snake by the light of the headlamps of their cars.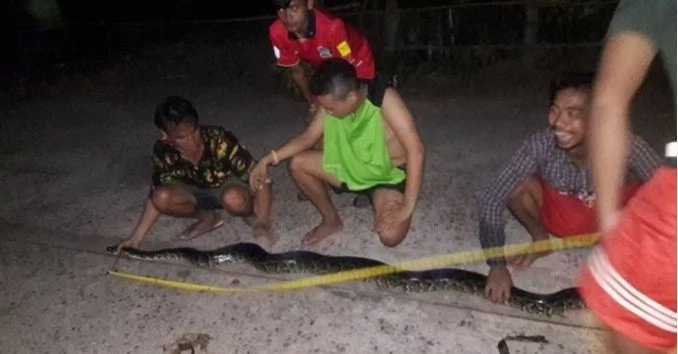 When they finally tracked the snake down it took all of them to restrain it.
One of the men said: ''This snake took a while to get under control. It almost had the woman for her dinner."
He added: ''She was terrified and asked for help. We caught the python and got the situation under control.''
The men did not harm the snake. They wrestled the reptile into a sack and set it free in the jungle far away from human settlements.
Source: Kami.com.ph