- A photo of Dingdong Dantes' billboard beside a poster for the U.S. series "Arrow" went viral
- Netizens found it funny since Dingdong's show, "Alyas Robin Hood," was accused of plagiarizing "Arrow"
- TV5 puts up the poster for "Arrow" since they have a regular airing of it on their network
Filipinos have always been fascinated on Western films and shows. Take for example the incidental comparison between Darna and Wonder Woman, Captain Barbell and Superman, Encantadia and Game of Thrones, and the list goes on.
However, not every Filipino finds the resemblance amusing. Their argument is that they see it as a setback to the country's entertainment industry. According to them, since we have a lot of unique local characters, then why not just enhance those than imitate what we see on the international screens?
READ ALSO: Fans see 'Alyas Robin Hood'-'Arrow' similarities
A throwback on this issue came in light when netizens found this placement of billboards along Quezon Avenue humorous.
In the photo shared by DJ Mo Twister, it can be seen that Dingdong's billboard for Bench was right beside TV5's poster for the airing of the U.S. series "Arrow" in their network.
What cracked people up the most was the heading "THE ORIGINAL" which coincides with the issue faced by Dingdong's show.
READ ALSO: Dantes says show is based on legend not foreign series
Fans of "Arrow" were so disappointed when the promotional poster for "Alyas Robin Hood" was shared on social media. However, it was cleared later on that it was just made by a fan.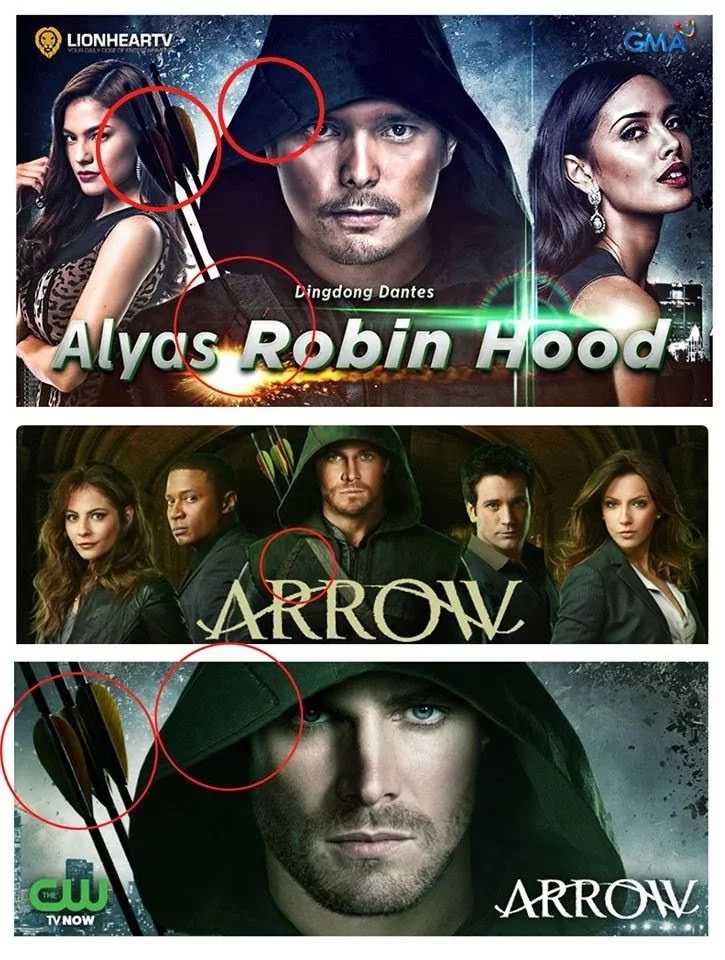 To make things worse, the teaser clip of "Alyas Robin Hood" even caught the attention of Stephen Amell. He plays the character of Oliver Queen, the lead star of the U.S. show.
He even shared the video on his timeline and captioned it with just a flustered emoji.
READ ALSO: Hollywood star Stephen Amell reacts to GMA's newest show
While Suzette Doctolero, the writer of "Alyas Robin Hood," made it clear that the show was based on the character of the real Robin Hood, the comparisons never end.
We don't know if it's just as a coincidence or not, but TV5 did a good job on making sure their poster will be noticed!
Do you think this issue is as controversial as the "deadly kiss?"
READ ALSO: 8 heartwarming photos of the DongYan family
According to rumors, Dingdong already has a show slated for next year together with his wife, Marian Rivera.
Do you have a story to report? Has something shocking happened in your local community? Send us a message on our Facebook page!
Source: Kami.com.ph