Various cultures have different criteria of beauty, which vary considerably. This criteria changes even within the same cultural community from generation to generation. This woman was unlucky to be born at the time, when such a discrepancy from ideal standards was not an "Originality" but rather a curse.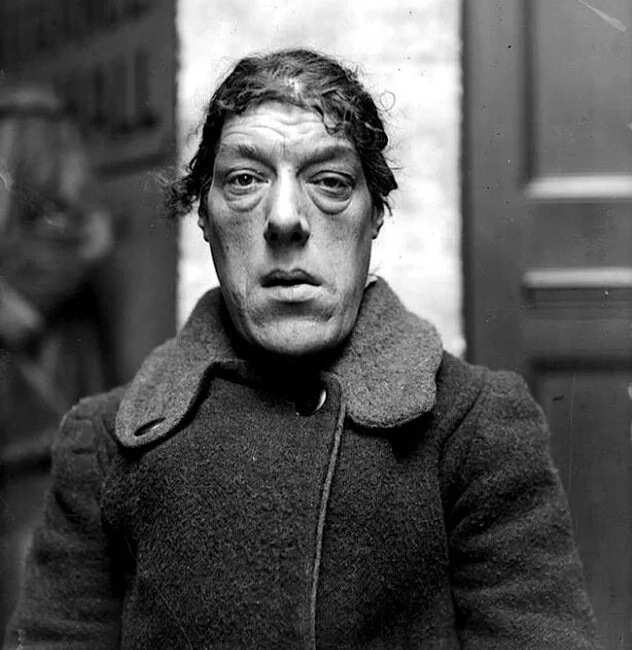 Mary Ann was born on December 20, 1874 in London. She spent much of her youth working as a nurse and at the age of 29 she married a florist named Thomas Bevan. Around this time the first signs of her illness began to appear, which had affected her whole life. And in 1914 she had suffered another misfortune – the death of her husband. The woman was left a widow with four children.
READ ALSO: Disgusting Moment Doctor Removes HUGE Ball Of Fat From Woman's Arm
The mysterious illness of Mary Ann was called acromegaly, a condition caused by excess growth of hormones (violation of the anterior pituitary function) which causes the enlargement of specific body parts, especially the extremities (hands, feet, and the front of the skull). At 32 years the acromegaly began to progress which caused the growth of body parts of the young woman, accompanied by severe headaches and muscle pain. Mary, nevertheless, continued to work and provide the family.
When the financial situation became very difficult, Mary decided to take an unimaginable step: she choose to sacrifice dignity for the sake of her children, and has taken part in the competition "The ugliest woman ever". She had won the competition and gained the title of the ugliest woman in the world. It was a really humiliating experience, but the prize money was just enough to save her family.
READ ALSO: HUSH! This Japanese Show Is Exactly Between Their Legs
After winning the contest she started performing with the circus. The "freak shows" were not forbidden by the law at that time.  She toured the United Kingdom but eventually ended up in the United States working at the Coney Island Circus. Mary Ann died in 1933, and she had never abandoned her work.
It's worth mentioning that in modern times the situation with such people, being accepted by the society is not much better. Only a few years ago, the Hallmark has posted a postcard with a picture of Mary Ann and a rude commentary.   Hopefully a German doctor, who saw this postcard, officially explained, that the woman had suffered from a terrible disease and should be treated with respect. After that, the company recalled the entire edition and have made a public apology.
Nevertheless, anyone have much to learn from this story. Happiness can be found even in darker times, if you do not forget to reach for the light. And you should never give up!
Source: Kami.com.ph