- A number of Filipino-Americans vent out their frustration over a looming Trump presidency by joining an anti-Trump rally in Chicago
- They brought the Philippine flag and a sign that says "Not my president."
- Trump's hard stance on immigration worries many Filipino-Americans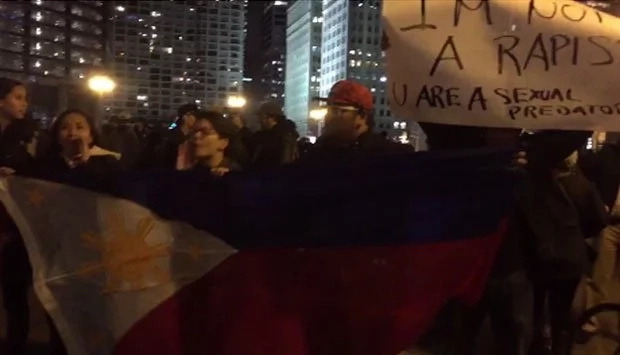 There's no doubt about it that Donald Trump won the 2016 U.S. Presidential elections. However, some Filipino- Americans were not that happy about the results.
In Chicago, together with other nationals, a number of Fil-Ams took to the streets to protest the win of Trump.
READ ALSO: Hillary Clinton thanks U.S. despite painful loss
They brought a Filipino flag with them, and some signs that state, "My parents did not immigrate here for this."
Another sign read, "Not my president, not my daughter's either."
It wasn't only the Filipino-Americans who protested the landslide victory of the business tycoon.
READ ALSO: Duterte vows not to quarrel with US following Trump's win
His policies on immigration didn't ring well with many immigrants and the LGBT community.
Chants like "Down with Trump" can be heard, including those that hit Trump for being a racist.
READ ALSO: Duterte advised not to quarrel with US because of Trump
Anti-Trump rallies weren't only those held in Chicago. There were also rallies in San Francisco and California.
Everyone should just learn how to get along just like this family who "get along" with bears living right in their homes.
Source: Kami.com.ph