- Dashcam footage of an intense encounter between two drivers has gone viral
- The video shows a driver trying to act tough while holding a wooden stick
- However, he was the one who got scared as his enemy threatened him with a giant ax
An intense and thrilling dashcam footage showing a road-rage driver getting scared out of his wits as his rival driver threatens him with a large ax went viral.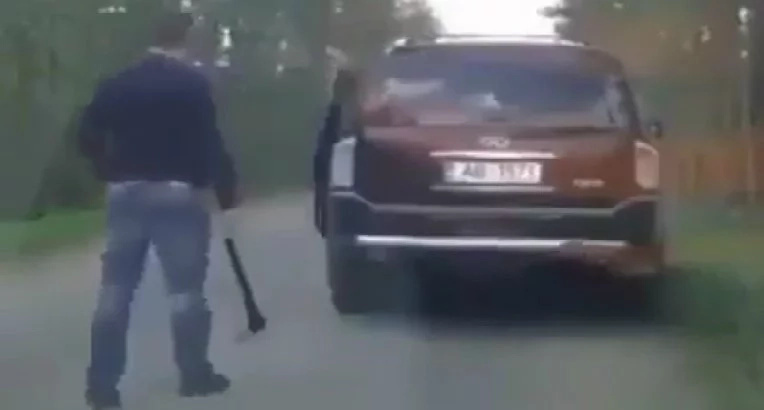 The video shows the driver with an ax parking his car on the side of the road after a road-rage driver violently overtook his vehicle.
READ ALSO: Hit-and-run accident video in QC involving helpless old woman goes viral
As both men parked their car, the road rage driver was first to get off his car, bringing a wooden stick with him.
"Road Rage! Yung sobrang angas ni Kumag sa kalsada dahil may kargada. Tapos mas astig pa pala yung makaka laban nya," the netizen who shared the video posted.
(The driver seemed to be tough because he had a weapon. However, his enemy was even tougher.)
READ ALSO: Deadly Pinoy gunmen killing defenseless woman in Manila caught on CCTV
Unfortunately for him, the driver he was trying to scare with a wooden stick had an even scarier weapon – a deadly giant ax.
The road rage driver immediately went back to his vehicle and took off as fast as he could.
READ ALSO: Careless Pinoy motorcycle rider falls off cliff while riding with friends
Netizens were thrilled and amused by the viral video.
"Akala ko parang eksena sa action movie ng Hollywood yun pala pang comedy ito," a social media user commented.
(I thought that this video was going to be like a scene from a Hollywood action movie but it was actually more of a comedy.)
SHARE this intense video with your loved ones!
Do you have a story to report? Has something shocking happened in your local community? Send us a message on our Facebook page!
The video below will also thrill you!
READ ALSO: Brave MMDA enforcer gets into wild fist fight with violent motorcycle riders
Source: Kami.com.ph