- A video of a motorbike accident in a highway has gone viral
- The video shows a rider falling off a cliff while riding with his friends
- Netizens urged motorcycle riders to be extra careful in riding their bikes
A scary and intense video clip showing a careless Filipino motorcycle rider suddenly falling off a small cliff while riding with his friends has gone viral.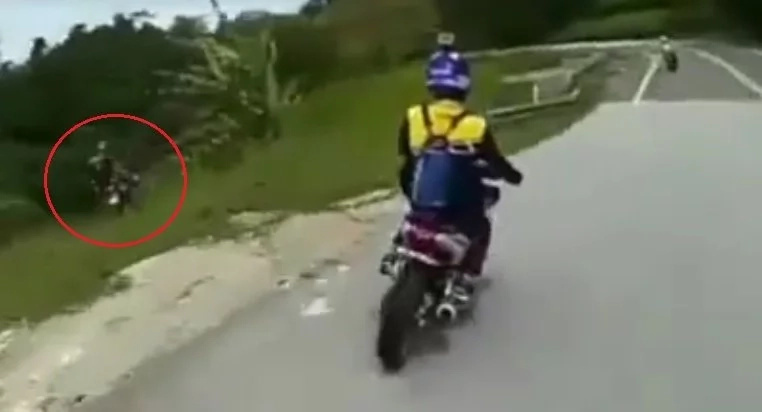 The video shows the group of riders riding their bikes with great speed on a highway in the province. A few moments later, one of the riders lost control of his bike and went straight off a small grassy cliff.
READ ALSO: Dangerous Pinoy hold-uppers on motorcycle victimize helpless female student
One of his friends signaled to the other riders to park their bikes to check on their possibly-injured companion.
The video ends with the riders rushing to the scene of the accident.
READ ALSO: Clumsy Asian teen gets into brutal accident while singing in front of camera
Many netizens expressed their fear of riding motorcycles and their concern for what happened to the rider.
"Nakakatakot talaga mag motor! Sana okay lang siya at walang matinding injury," a netizen said.
(It is really scary to ride a motorcycle! I hope the rider is okay and that he did not sustain severe injuries.)
Other social media users blamed the riders for riding their bikes at great speed.
READ ALSO: Video of man's heart-stopping escape from burning building goes viral
"Kawawa nmn, wag kasi masyado magpa takbo ng mabilis, darating naman kayo sa inyong pupuntahan ang importante safe kapa rin makakauwi," a social media user commented.
(Pity, bikers should not ride too fast because you can still get to your destination in a slower pace. What is important is you can get to your destination safely.)
SHARE this shocking video with your family and friends!
Do you have a story to report? Has something shocking happened in your local community? Send us a message on our Facebook page!
This next video might also thrill you!
READ ALSO: MMDA traffic enforcer gets into fist fight with violent motorcycle riders
Source: Kami.com.ph