- PNP Chief Ronald "Bato" dela Rosa was seen in Las Vegas watching the recent fight of Senator Pacquiao
- Many Filipinos reacted negatively and said that Bato violated the law for accepting the trip to Las Vegas sponsored by the Senator
- Bato said that he does not care about propriety and cares only about the free opportunity given to him
Philippine National Police Chief Ronald "Bato" dela Rosa reacted to criticisms thrown at him regarding his acceptance of the free flight to Las Vegas sponsored by Senator Manny Pacquiao to watch his fight against American boxer Jessie Vargas.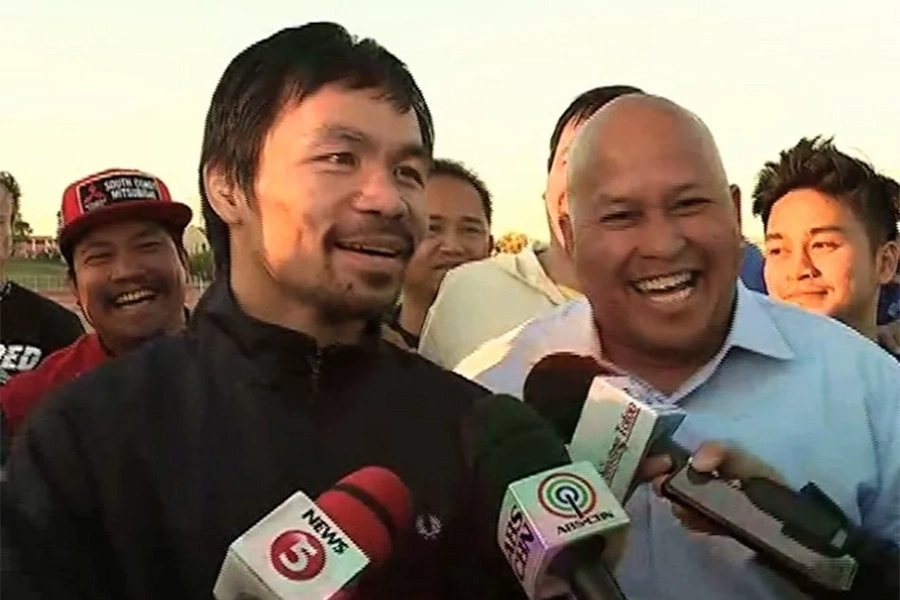 READ ALSO: Senator Aquino furious at SC's decision on Marcos burial
Bato, who was seen supporting the Philippine boxing champ in Las Vegas, arrived on Philippine Airlines flight PR 103 at the Ninoy Aquino International Airport and spoke briefly spoke with the media.
"I am really thankful. That trip was not from my personal money. It was Senator Manny's," Bato said.
When asked for his response to citizens who are criticizing him for accepting the free vacation from the Senator, Bato just shrugged off the issue.
READ ALSO: Imee Marcos asks Martial Law victims for forgiveness
"Bahala na ang propriety na iyan (I don't care about propriety.) All I know is it's free so I grabbed the opportunity. After all, we both came from poverty. We had this vacation and we're really happy about it," he added.
Meanwhile, Senator Manny Pacquiao is back to work at the Senate after his victory.
"I am really thankful for the warm welcome. Thank you for the prayers and the support. I immediately returned from the fight because of the work I have to do at the office," said the Senator.
READ ALSO: Muslims express panic over Trump win at US presidential race
When asked whether he is planning to have a rematch with Floyd Mayweather Jr., Pacquiao said that he will prioritize his work in the Senate and will set aside boxing for now.
Watch the video below on the statement of Manny after his glorious fight with Vargas!
Source: Kami.com.ph