Duterte is the most talked about presidentiable on Facebook
On the topic of Philippine presidentiables, tough mouthed Rodrigo Duterte is the most talked about candidate on Facebook.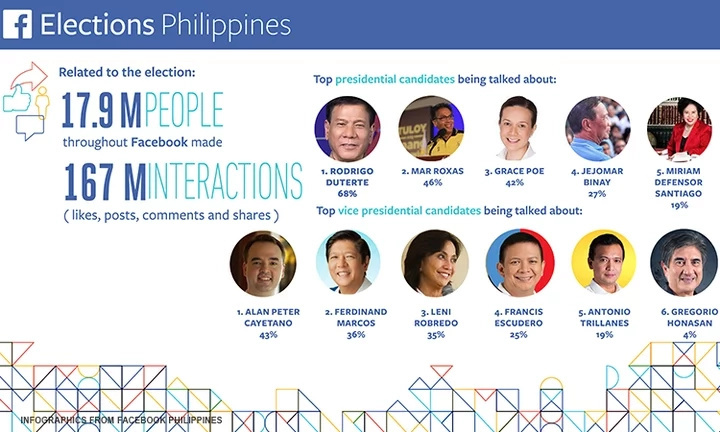 Out of 17.9 million netizens engaging in 167 million interactions related to the coming Philippine elections, Duterte gets the most word at 68%.
LP bet Mar Roxas follows with 46%. Grace Poe, Jejomar Binay, and Miriam Defensor Santiago trail behind with 42%, 27%, and 19% respectively.
Meanwhile, in the vice presidential race, Duterte's running mate Alan Peter Cayetano topped the list with 43%, followed by Ferdinand Marcos at 36%, Leni Robredo at 35%, and Francis Escudero at 25%.
Antonio Trillanes and Gregorio Honasan are at the bottom of the list, at 19% and 4% respectively.
The crowd goes wild after the rape joke
While Duterte was already the most discussed presidentiable since November last year, the conversations spiked on April 17 when the video of his remark on the rape of the late Australian missionary Jacqueline Hamill drew wind.
However, being the most talked about candidate does not necessarily mean being the most loved. Duterte received flak from different advocacy groups, notable international icons, and from the local supporters themselves.
READ ALSO: Australian TV Host tells warns viewers against going to PH if Duterte wins
Surprisingly, the remark did not inspire enough hatred to topple him from the top of the presidential survey.
READ ALSO: Duterte leads 'Pulso ng Pilipino' survey despite rape joke
Duterte defended his remark as gutter language, but refused to apologize for it. Even when his camp apologized on his behalf, the Davao Mayor said that he didn't approve the statement, and that the public should not expect him to apologize.
In the Facebook press release, it reported that women between 18 to 24 are the most engaged netizens in the social conversation. The report, however, did not indicate if most conversations about Duterte reflected him in a positive light.
Source: KAMI.com.gh