- Libingan ng mga Bayani at Isang Magnanakaw appeared in Google Maps for the location of the Heroes' Cemetery
- Supreme Court ruled in favor of Marcos' burial at LNMB on Tuesday causing public outrage
- Human rights victims vowed to continue to fight for justice and to prevent the burial of Marcos at LNMB
A day after the Supreme Court handed its decision on Marcos' burial, Libingan ng mga Bayani at Isang Magnanakaw appeared on Google Maps.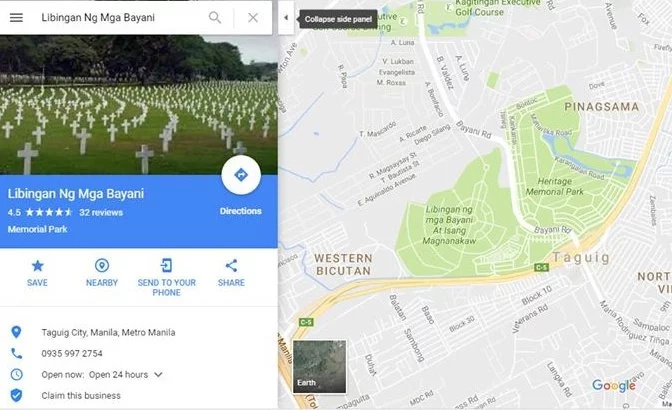 READ ALSO: How Marcos' treasury came about - and where it is now
Enraged Filipinos took their anger out in user-generated Google Maps when the highest court in the country allowed the Philippine tyrant Ferdinand Marcos to be buried at the "Libingan ng mga Bayani" or Heroes' Memorial where great statesmen and honorable members of the military were buried.
READ ALSO: In defense of Martial law: Why Marcos is a hero
Names of locations in Google Maps are user-generated. Recent name changes are not sanctioned by tech giant Google.
"Some inappropriate results are surfacing in Google Maps that should not be, and we apologize for any offense this may have caused. Our teams are working to fix this issue quickly," Google told ABS-CBN News via email.
READ ALSO: Understanding the Marcos Apologists
On Tuesday, the Supreme Court voted 9-5-1, ruled in favor of Marcos' burial at the Heroes' Cemetery. The court argued that there is no threat from incumbent President Rodrigo Duterte and that Marcos is qualified to be buried at the said cemetery.
Meanwhile, the decision caused public outrage, especially from the human rights victims during Marcos' administration and said that they will continue to fight until justice is served.
READ ALSO: Marcos just won't concede easily
Source: Kami.com.ph