EDITOR'S NOTE: This video contains themes and images that may not be suitable for minors. Parental guidance is strongly advised.
A video clip showing a brave MMDA traffic enforcer getting into a violent fistfight with two motorcycle riders in the middle of the street has gone viral.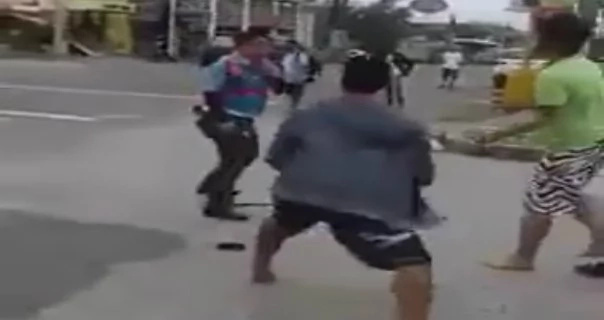 The video shows the traffic enforcer and the two riders having a fist fight which was stopped as the crowd tried to intervene.
READ ALSO: Worker's miraculous escape from burning building goes viral
But a few moments later, the fist fight resumed with the MMDA enforcer getting knocked down in the process.
After they knocked down the traffic enforcer, the riders quickly escaped from the scene.
READ ALSO: Clumsy Asian teen suffers brutal accident while singing in front of camera
The exact cause of the incident is still unknown but netizens slammed the riders for physically assaulting an MMDA enforcer.
"Ang tatatapang nga mga 'to. Sila dapat sinasabak sa gyera," the netizen who shared the video posted.
(These men are so brave. They should be sent to war.)
Other social media users also lamented about many Filipinos' lack of decency and discipline.
READ ALSO: Dangerous hold-uppers on motorcycle victimize helpless female student
"Maraming lalake alam lang kabastusan at pananakit ng kapwa. Ang tunay na lalake marunong makipagusap para ayusin ang mga bagay," a social media user wrote.
(Many men today are only good at disrespecting and hurting others. A true man knows how to talk and reason in order to solve problems.)
SHARE this shocking video with your family and friends!
Do you have a story to report? Has something shocking happened in your local community? Send us a message on our Facebook page!
The next video you are about to see might also shock you!
READ ALSO: Hateful Pinoy verbally abuses and threatens to hurt female bus passenger
Source: Kami.com.ph