- Jessy Mendiola has become a basher favorite due to her alleged relationship with Luis Manzano
- Her haters got on the comments section of her Instagram page, where Luis defended her and made it known to the public of his true personality
- The Kapamilya host is notorious for hitting back on his bashers on social media
Now that Jessy Mendiola has enabled the comments section of her Instagram again, her bashers got back to business on making fun of her.
In one of her recent posts, which is another glammed-up selfie, commenters could not help but respond her infamous grammatically incorrect line during the 10th Star Magic Ball.
To everyone's surprise, Luis Manzano took down those who commented such and others who were trying to appease him in their own way.
READ ALSO: Panggap ka kuya? Jake Ejercito against Marcos' burial despite being friends with Sandro Marcos
It is known that Luis does not take it easy on bashers, whether his or Jessy's, to the point that even Jessy herself stepped in to calm him down.
Fashion Pulis was able to take screenshots of the bashers' comments as well as Luis's response to them.
The first one, his conversation with user @corpuznancy, was quick and abrupt.
READ ALSO: Hindi ka nag-iisa, Mark! Renz Fernandez shows support on the release of his brother
The second one with user @darkeyjn was longer and more heated than the previous one as Luis got nastier with every response. In short, a typical Luis response to a basher.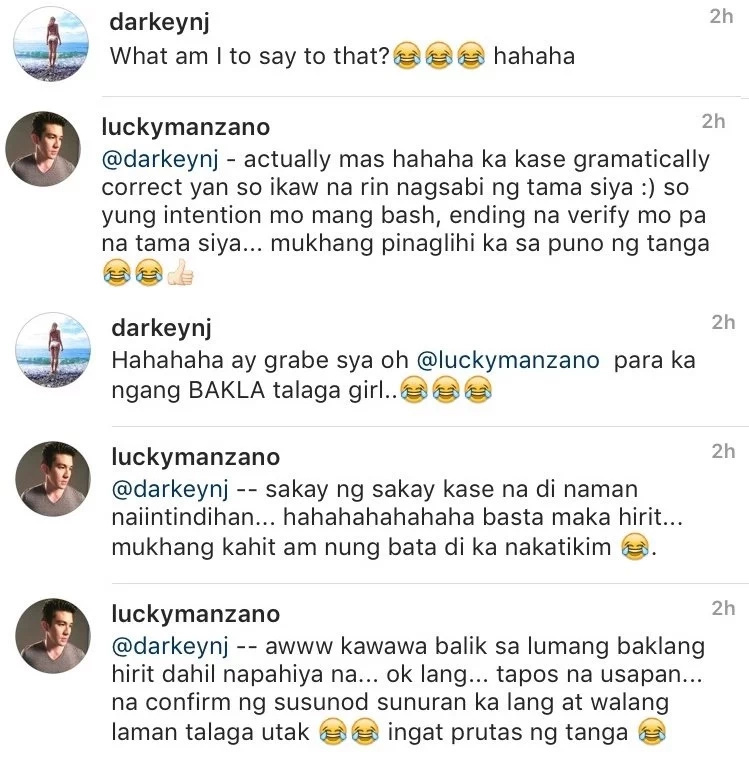 The third and fourth instances were almost in the same vein as these netizens gave their constructive criticism on how Luis handles haters, but Luis could not keep his mouth shut and admits that he is not what he seems on camera.
Jessy even had to step in because it looks like Luis is unstoppable on making his opinions heard.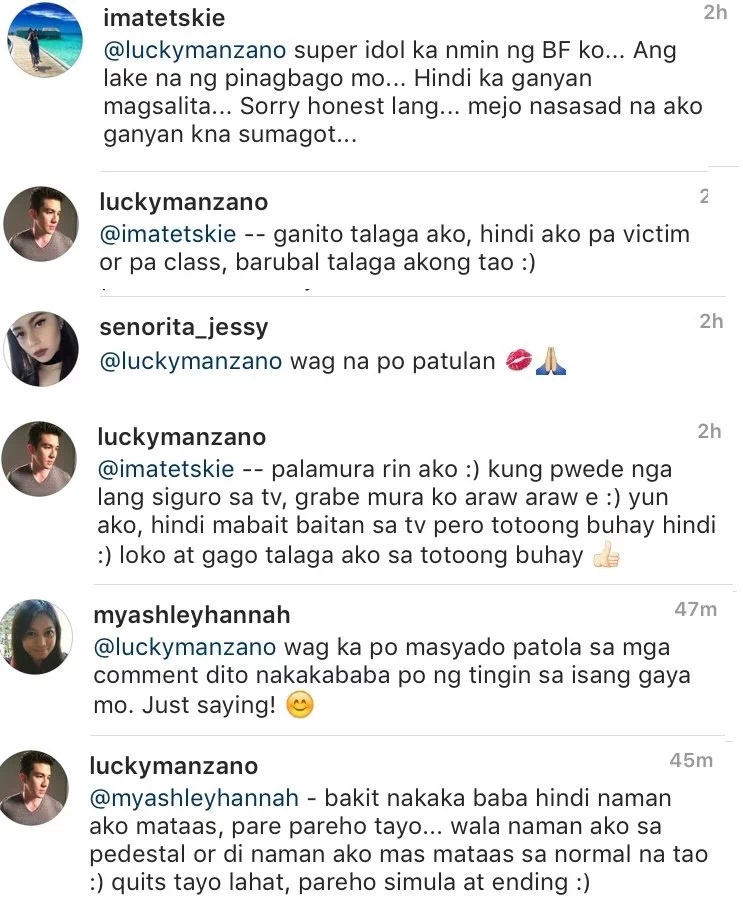 READ ALSO: Cute pa din kahit wacky! Coleen and Billy display their goofy sides during vacation
Maybe it is better that Jessy disables her comments section for good since bashers just could not get enough of hating her on social media, even if she has not done anything personal to them.
Luis, on the other hand, gladly takes on his haters on his Instagram account as his comments section is still available to those who want to share their thoughts on his posts.
In the vein of his usual posts, here is a titillating clip of a sexy model who got bitten by a boa constrictor.
READ ALSO: 9 Pinoy personalities who express disapproval to give Marcos a hero's burial
Source: Kami.com.ph