- Senator Risa Hontiveros strongly believes that "it is our duty as Filipinos, as students of history, to stand against this travesty and say - as has been said before - NEVER GAIN"
- Many may have agreed with the High Court's decision to bury the late dictator Ferdinand Marcos at the Libingan ng mga Bayani, but many also have equally disagreed, just like the female senator
- Nine judges voted in favor of the burial on Tuesday while only five were against it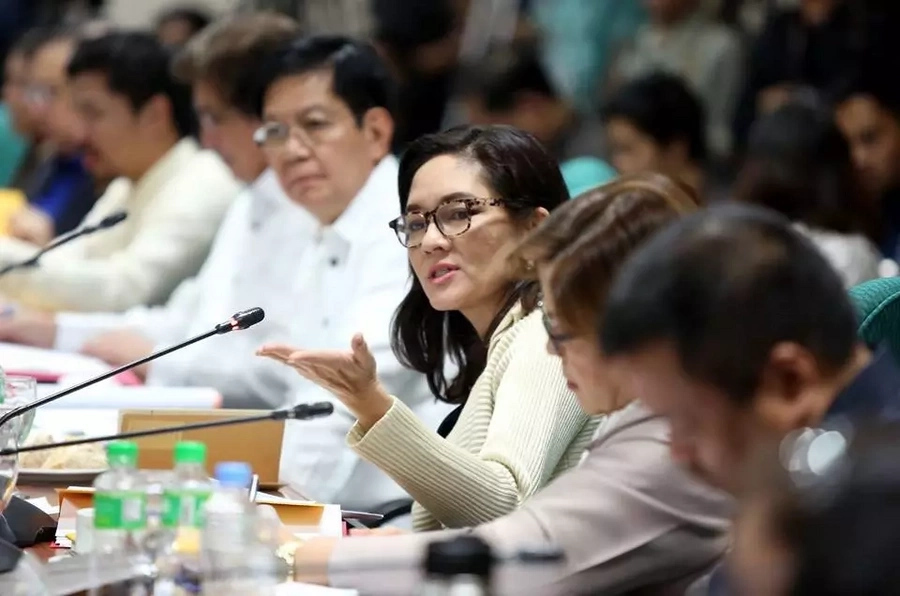 READ ALSO: 9 well-known Filipino personalities who are against the hero's burial for Marcos
Following the Supreme Court's decision to bury the former President Ferdinand Marcos at the Libingan ng mga Bayani, human rights activitists and martial law victims can't stay silent.
Filipinos, be it ordinary citizens, celebrities, political figures and other famous personalities who are against the burial have generated their comments and reactions through social media platforms.
Many may have agreed but many also have equally disagreed.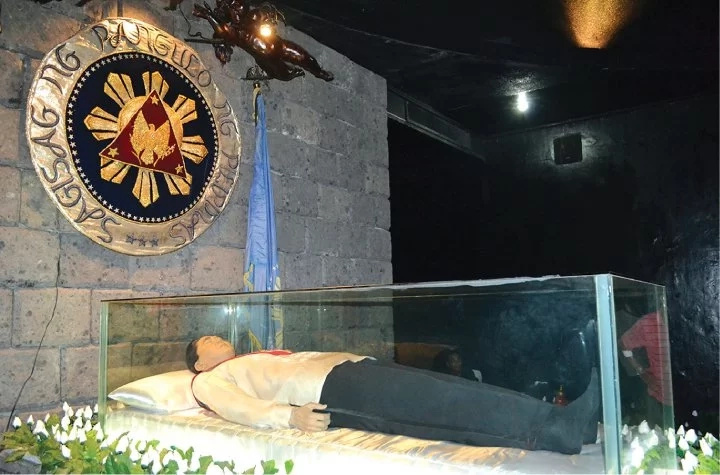 READ ALSO: Never again! Agitated Aquino gravely disappointed over hero's burial for Marcos
Senator Risa Hontiveros Facebook page even compared how dictators from several countries were treated to that of Marcos.
In her page, these are the exact words written.
"Ganito po tinatrato ang mga diktador sa ibang bansa. Ang kanilang puntod ay hindi puntod ng parangal. Kung ito man ay bibigyan ng pansin, ito ay para magturo ng leksyon sa mga susunod na henerasyon. Ito ay para sabihin, 'wag tularan'.
"Habang dito sa Pilipinas, ang mga diktador ay tinuturing na bayani at binibigyan ng parangal. At ang biktima ng diktador ay pinagdududahan at isinasantabi. #MarcosNotAHero #NeverAgain"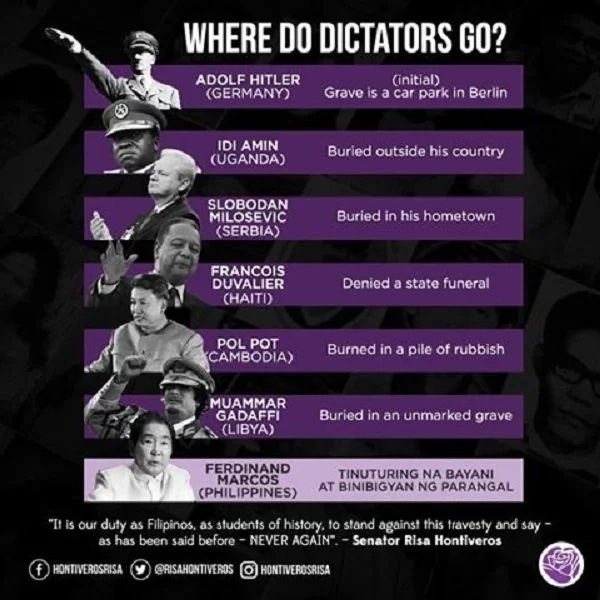 The post also gained critical comments from netizens.
"Question, though. Why isn't Marcos buried in his hometown? I mean it could be in their options, right? And if that was made, it'll cause lesser conflict. So why not choose that?" - Paula Alexis Ando, Facebook
She has a point.
READ ALSO: Prominent Filipinos who support Duterte vs. prominent Filipinos who support De Lima
One defended Marcos, noting the he should be remembered by the good deeds he made.
"Marcos became a President of the Phil. He must be marked by what good he brought and not what bad he brought. You judge a person by its good deeds and not by his troubles. If Philippines were to be the first to put a dictator in a good cemetery, then we can mark every person's heart that there is some good from him. Plus, he is not merely known for his dictatorship, why base him on that?" - Kyle Mamauag, Facebook
And of course, there will always be one who supports.
"We are a country of losers! Imagine a dictator who killed thousands and stole billions of dollars and yet to be buried at heroes cemetery. In short Marcos is a hero? Come on we are better than this." - Ting Caacbay, Facebook
Any thoughts on this?
RELATED: Hindi tama! Filipinos express disapproval over Marcos hero's burial
Source: Kami.com.ph