- McDonald's really care for their customer and went out of their way to buy her medicine
- Facebook user is grateful and shared her story in social media where it garnered hundreds of shares
- Netizens commended the unnamed delivery guy and McDonald's branch that accomplished this good deed
What will you do if you are sick, alone and feel helpless? Will you ask a stranger to do an errand for you? Probably not, but Facebook user Eireen Beltran did and here's what happened.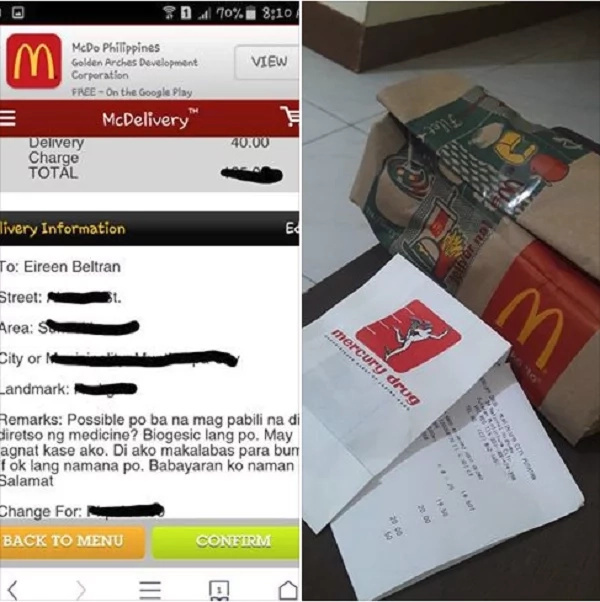 READ ALSO: Dingdong and Yanyan advertise McDonald chicken
Beltran feel under the weather and ordered a meal at McDonald's. Unable to go out to even buy her own medicine, she added a request in the remarks. She asked for the delivery guy to buy her a medicine for her fever and said that she will pay for it once delivered.
READ ALSO: Netizen shares photo of old man working in McDonald's
The sick customer is probably not hopeful that her request will be granted since it is not stated in any policies of McDonald's to fulfill requests of clients that are not covered by their services. However, to her surprise, McDonald's went the extra mile and bought her medicine from a drug store and deliver it to her along with her food right at her doorstep.
READ ALSO: Alleged young mom hurts baby
Beltran was so grateful that she posted the incident on Facebook. Netizens applaud the unknown delivery guy and McDonald's for going out of their way in order to fulfill the request of their loyal customers. Some commenters said that the delivery guy deserves something great, others asked for the McDonald's branch that accomplished this good deed.
READ ALSO: Max's latest hugot commercial will take you on a feels trip!
Source: Kami.com.ph