EDITOR'S NOTE: This column contains themes and images that may not be suitable for minors. Parental guidance is strongly advised.
A viral video showing a Filipino man pulling off a disgusting prank on an unsuspecting customer in a computer shop has angered the online community.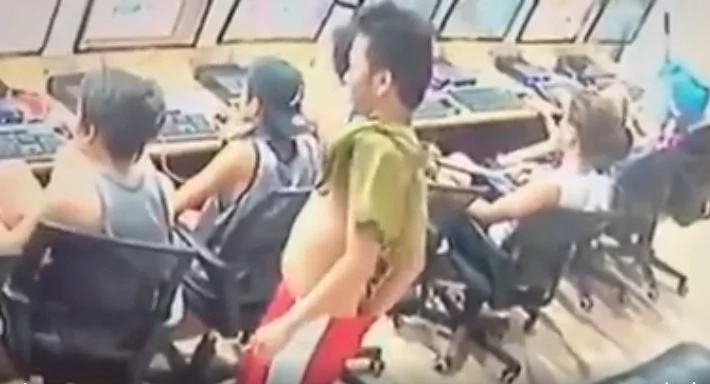 The video shows the topless man entering the shop casually and positioning himself behind his target.
READ ALSO: Dangerous Pinoy burglars pretending to be expert skateboarders caught on CCTV
He can then be seen reaching inside his shorts to fart on his hand and then rubbing that hand on the face of the male customer.
After the victim realized what just happened, he immediately lost his temper and ran after the disgusting prankster.
READ ALSO: Angry employers force Asian maid to drink tea she made with her menstruation blood
Many netizens slammed the Pinoy prankster for his inappropriate and disrespectful prank.
"Wag mo gagawin sa iba ang ayaw mong gawin ng iba sayo. Pambabastos at kawalan ng galang yan," a netizen wrote.
(Do not do unto others what you do not want others to do unto you. What he did was disgraceful and disrespectful.)
Other social media users commented that many young people in the country today are more interested in doing things that do not contribute to the society.
READ ALSO: Greedy Pinoy taxi driver throws out old couple's baggage for refusing to pay extra fee
"Mga kabataan ngayon, sa kalokohan at walang kwentang bagay mahusay," a social media user said.
(Many of the youth today are only experts at doing silly and non-sensical stuff.)
SHARE this disgusting video with your family and friends!
Do you have a story to report? Has something shocking happened in your local community? Send us a message on our Facebook page!
This next video will surely shock you as well!
READ ALSO: Brave Pinoy hand-feeding deadly giant snake goes viral
Source: Kami.com.ph