- Actress Heart Evangelista posted a photo of her and the late Senator Miriam Defensor-Santiago on her death's 40th day
- Heart epressed how she misses the senator who served as her second mother
- Santiago was the matchmaker of Heart and her husband Senator Francis Escudero
It seems really hard for actress Heart Evangelista to completely accept that her second mother Miriam Defensr-Santiago already passed away.
It has been 40 days since the late senator passed away. Heart then posted a photo of her with the notable senator remembering the day they "said goodbye".
Heart wrote: "40 days since the day we said goodbye... i miss you #senatormiriamdefensor #mds"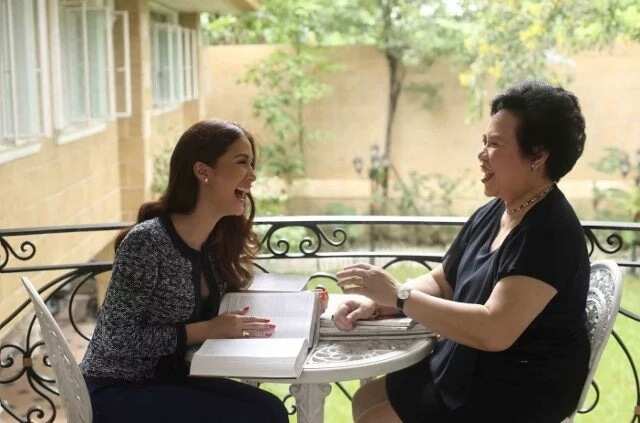 READ ALSO: Heart Evangelista gives emotional eulogy for Miriam Santiago
Santiago had served as the matchmaker of heart and her husband Senator Francis "Chiz" Escudero. The two women are known to be close friends, Heart, even remembering how the female senator made her feel special on the her emotional eulogy before Santiago's burial.
Heart said:
"For indeed those were the times everything and anything was possible with you by my side, with you holding my hand. You were my fairy godmother, my protector, my hero, my mother, and my best friend.
"You made me feel like the world was just waiting for me to spread my wings and make my dreams come true. You made me feel how special I was and I was indeed a child of the universe, as you would always say. You were ever so generous of your time and my heart to me, everybody wanted to be with you and yet you gave me so much of your borrowed time."
Heart also mentioned on her eulogy that the late senator had allowed her to "spread my wings". She expressed how it was hard for her to accept the lost of her "mom". She then ended her eulogy through giving thanks to Santiago:
READ ALSO: Colleagues remember Sen. Miriam Defensor Santiago
"Thank you so much. For now I shall say goodbye and with a sad smile, I will say, until we meet again."
Meanwhile, watch how this baby survived 14 stab wounds:
READ ALSO: Sen. Santiago's family, loved ones express pain for their loss