Sarah Lahbati gives valuable fitness tips to new mothers
- Sarah Lahbati revealed that she looked like she was still pregnant a few weeks after giving birth to her son in 2013
- However, Lahbati said that it was normal due to water retention
- She advised new moms to avoid taking drastic measures to lose weight quickly after giving birth
Kapamilya star Sarah Lahbati gave some helpful tips for new mothers who are worrying that they appear not to be losing weight even after giving birth.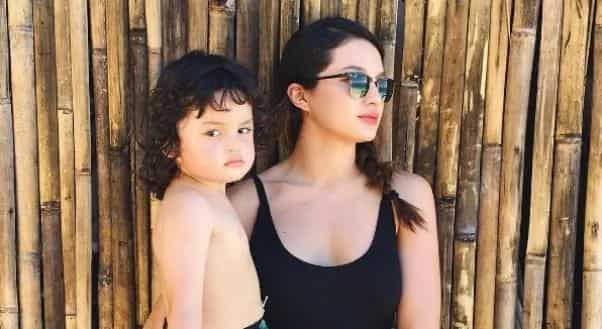 According to the actress-model, it is normal for a new mother to retain some of their tummy weight and appear pregnant due to water retention.
READ ALSO: Angry Asian employers force maid to drink tea she made with her menstruation blood
"Parang (It was like) right after pregnancy, para pa ring buntis (I looked like I was still pregnant). I still looked pregnant because of all the water left," Lahbati explained.
She weighed 63 kilograms before getting pregnant and had a normal weight gain of 15 kilos during pregnancy.
Instead of panicking and getting worried about water retention, the star advised new moms to take it easy and to avoid taking drastic measures to lose weight. She added that their baby weight will help them breastfeed their babies.
READ ALSO: Amazed netizens go crazy over Iloilo boy singing difficult Aegis song
"You know what, do not do anything drastic. That's normal naman, e. You shouldn't rush losing weight kasi you're gonna lose the milk also," Lahbati advised.
She added that new moms should eat healthy food to help their body heal and produce breast milk.
The Swiss-Filipino actress gave birth to her son baby Zion in May 2013 with her partner Richard Gutierrez, an actor for GMA Network.
READ ALSO: Greedy Pinoy taxi driver throws out old couple's garbage for refusing to pay extra fee
She transferred to ABS-CBN in 2015 and has appeared in "My Super D," "Maalala Mo Kaya: Karaoke," "ASAP," and "Ipaglaban Mo: Tiwalang Sira." She will also star in the upcoming romantic drama TV series called "The Promise of Forever," which will replace "Till I Met You" in 2017.
The hotly-anticipated series will feature actors Ritz Azul, Paulo Avelino, Ejay Falcon, Amy Austria, Cherry Pie Picache and Benjie Paras and will be directed by Hannah Espia and Darnel Villaflor.
The baby video below will surely make you laugh out loud!
READ ALSO: Brave Pinoy hand-feeding deadly giant snake with chickens goes viral
Source: KAMI.com.gh