- A video of an old man climbing tall trees effortlessly has gone viral
- Some netizens said that the old man climbs trees to pick fruits and sell them
- Netizens were impressed with the grandpa but urged him to finally retire from his dangerous work
A breathtaking video showing an old Filipino man bravely climbing a tree and going down from it in a scariest manner imaginable has swept the online community.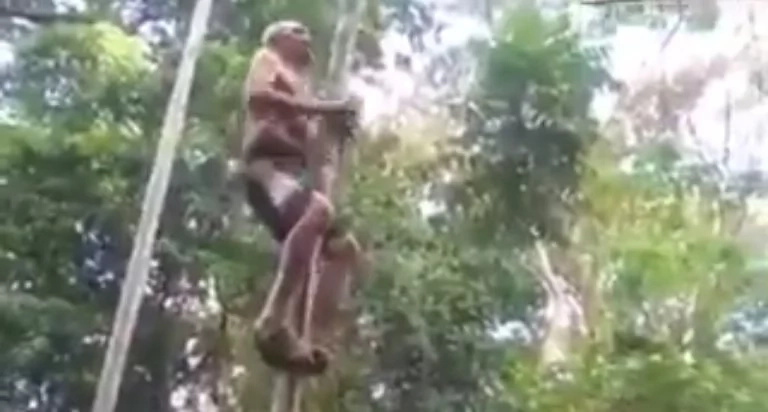 The video shows the old grandpa effortlessly climbing a tree using his agility, experience and the strength of his arms and legs.
READ ALSO: Greedy taxi driver in Mandaluyong throws out old couple for refusing to pay extra fee
After getting at the top, the grandpa does another unbelievable feat – he transfers to another tree by rocking the trunk of the tree he was on to get nearer and to reach the second tree.
But the old man was not finished with his performance. He went down from the tree by sliding down in a scary and very quick manner.
READ ALSO: Brave Pinoy hand-feeds deadly giant python with chickens
Fortunately, the old man successfully performed his final trick without sustaining any injury.
Many netizens said that the man probably climbed trees to make a living.
"Marami sa probinsya ganyan, kailangan manguha ng mga bunga ng puno kaya magaling umakyat," a netizen explained.
(There are many people like that in the province. They need to get fruits from the top so they are very skilled in climbing trees.)
Other social media users commented that the old man should let the younger ones climb trees to pick fruits because of his old age.
READ ALSO: Clumsy Chinese woman falls violently down the stairs while texting
"Dapat nagpapahinga na ang mga ganiyang katandang lolo. Dapat turuan na ang mas bata na umakyat ng puno para sa ikabubuhay ng pamilya nila," a concerned social media user wrote.
(Grandfathers like this man should be resting from work already. The younger ones should be taught to climb trees to provide for their families.)
SHARE this unbelievable video with your family and friends!
The next video will also amaze you!
READ ALSO: Pinoy pervert caught on video victimizing helpless female jeepney passenger
Source: Kami.com.ph